Chicken Milanese With Baby Spring Greens
Meekocu2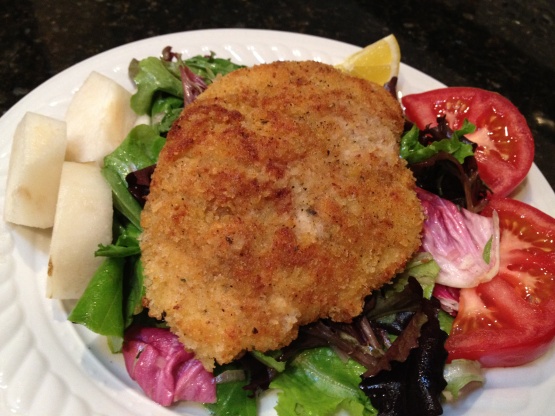 This is a moist and flavorful light lunch or dinner recipe. The flavors pop in your mouth with the first bite! It's my adaptation of a recipe I got from Cooking Light May 2010. Hubby requests if frequently, that's how good it is! We sometimes serve Parmesan Orzo on the side.

Top Review by Marie
Did not make the recipe for the salad so I am rating just the chicken. This method produced a wonderful crunchy chicken; however there wasn't nearly enough seasoning for my taste. Could not detect the flavor of the garlic or grill mates. I used chicken tenders that turned out very moist. I will definitely make this again with adjustments. Thanks so much for posting.
Combine the lemon juice, white wine vinegar, shallots, 1/8 tsp salt, 1/8 tsp pepper and sugar in mixing cup. Let stand 15-30 minutes while preparing chicken.
Place each chicken breast in between 2 sheets of heavy duty plastic wrap, and pound until 1/4 inch-1/2 inch thickness, which ever thickness you prefer, using the smooth side of a meat mallet. Set aside.
Combine bread crumbs, Panko, parmesan cheese, garlic powder, and Grill-Mates in a shallow bowl. Beat egg and water in another shallow bowl. Place flour in another shallow bowl and set up a work station in this order. Flour, egg, and bread crumb mixture.
Sprinkle chicken with remaining salt and pepper. First dredge each chicken breast first into the flour, then into the egg, and lastly into the bread crumb mixture. Make sure each breast is coated well. Place chicken on a wire rack and let stand 5-10 minutes.
Heat 2 TBSP olive oil in a large non stick skillet over medium-high heat. Add chicken and cook 3 minutes, turn and cook 2 minute more, or until browned on both sides.
Place chicken on a clean wire rack, put in to a 200* preheated oven for 5-10 minutes to rest.
While chicken is resting in the oven, add the remaining 1 TBLS olive oil to the shallot- vinegar mixture. Whisk until blended.
Place salad greens in a large serving bowl, pour dressing mixture over top and toss gently with tongs, until salad is completely coated with dressing.
Divide salad mixture between 2 plates, top with chicken breasts, and garnish with lemon, tomato, and pear wedges.
Enjoy!
Note: This may sound a bit labor intensive, it's really not, and it's definitely worth it in the end result. Please try this as is at least once, I'm sure you wont be disappointed!