gailanng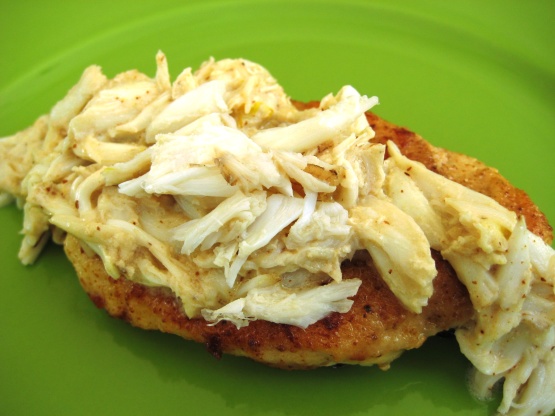 This rich, delicious dish will leave you and your sweetie feeling very satisfied. It'll be on the table in no time so it's useful for a quick weeknight meal. I designed this for 2 but you can easily double or even triple this for a larger group. Serve over rice, pasta or biscuits.

This was good, but I guess I just don't like creamy sauces like that.I went all the way used King Crab leg meat that I "extracted" myself (wasn't easy). The crab got somewhat lost in all the cream. Also I was a little bit confused, because my dish looked nothing like the picture, since the directions didn't mention whether I was supposed to remove the chicken before making the sauce, or not. Overall a good meal but I think when it comes to crab, I'll just stick to steamed with butter or a crab cocktail. I have the same thing with lobster. I tried the Thermidor" style and decided to make it just steamed from then on. Thank you for helping me to get to know my palate a little bit better, I'm sure there are many people out there who will love this dish.
In a medium skillet, melt butter and heat together with olive oil.
Meanwhile, fillet chicken breasts so they are thinner and dredge in the flour seasoned to your taste with salt, pepper and garlic powder.
Saute chicken in hot butter/oil until golden brown on both sides, about 7 minutes per side.
Add cream, wine, dijon mustard, salt and pepper to taste and crabmeat. Simmer 5 minutes. Serve over rice.
If serving over biscuits, remove the chicken from the pan after browning and dice into chunks then return to pan and proceed with the rest as written.