Chicken, Mango, and Rice Salad
Mmmama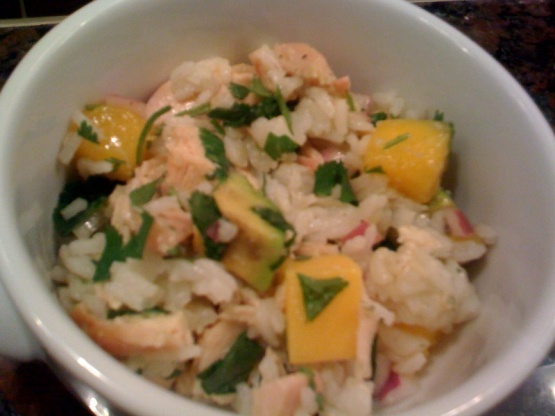 This is an awesome summer salad. The mix of the ingredients may seem odd, but I promise you everyone I have served it to has loved it. Hopefully you will, too. The Mango gives just enough sweetness to the dish, and the many textures and flavors work well together. You may adjust the amounts to your liking. I tend to like more fruit and cilantro with less rice.

This was a totally awesome salad! I made it with quinoa instead of rice, and used frozen mango chunks, and it was soooo good! thanks for this recipe, I am sure I will be making this one again.
Cook rice until done, and rinse with cold water.
Coat chicken with 1 tbs. of the oil and season with 1/4 teaspoons of the S/P.
Cook chicken until done.
When chicken is cool enough to handle, dice into 1/2-inch pieces.
Toss the rice, chicken, onion, mango, avocado, and rest of the oil (1 tbs), remaining salt and pepper, lime juice, and cilantro.
Chill for at least 1 hour before serving.
Revision: Since posting this recipe, I have been trying to cut back on consuming empty carbohydrates. So when I make this now I use little to no rice, and fill it with more of the other ingredients. It is still very good, especially after marinating for a while.