Chicken Enchiladas With Sour Cream Sauce
lazyme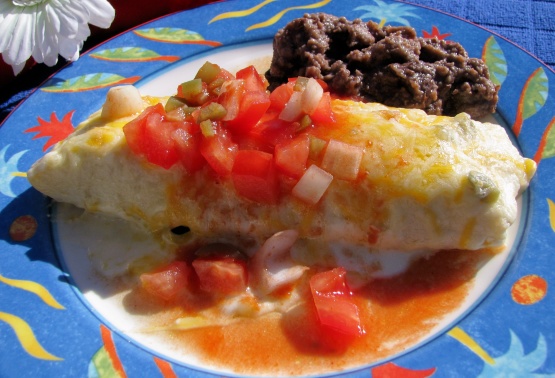 This is a weekly request at my house. These enchiladas have a white creamy sauce instead of the traditional tomato based sauce. I've been asked for this recipe over and over again, so I thought I would post it. I love Mexican foods, and I think this is a wonderful dish. I hope you do too!
This was a great lunch for me!!! I made 1/3 of recipe and used leftover store bought rotisserie chicken for the meat. Followed the recipe with the exception of using flour tortillas and when I topped the casserole, I used a mix of cheddar and monterey jack cheeses to add some color. I was tempted to pre-cook the onions, but didn't, and next time I definitely would, as they were still a little crunchy after baking, but that is the only thing I would change. Made for Stars Tag. Thanks for sharing a great recipe.
Melt the butter/margarine in a heavy saucepan over low heat; add flour, stirring until smooth. Cook 1 minute, stirring constantly. Gradually add chicken broth and water; cook over medium heat, stirring constantly, until thickened and bubbly. Stir in sour cream and 2 chopped jalapeno peppers. Pour half of the sour cream sauce into a lightly greased 13 x 9 x 2 inch baking dish. Set aside dish and remaining sour cream sauce.
Fry tortillas, one at a time, in 2 tablespoons oil in a medium skillet 5 seconds on each side or just until tortillas are softened; add additional oil, if necessary. Drain on paper towels. If you'd like to cut calories, you can soften the corn tortillas in water. Just bring water to a simmer in a skillet. Then dip each tortilla in the water, one at a time, for 1 to 2 seconds on each side or just until softened.
Place 1 tablespoon each of chicken, cheese, and onion on each tortilla; roll up tortillas, and place, seam side down, in reserved baking dish. Pour remaining sour cream sauce over top. Bake, uncovered, at 425 degrees for 20 minutes. Sprinkle remaining cheese on top; bake an additional 5 minutes or until cheese melts. Serve with enchilada relish, below:.
Combine 1 large tomato (finely chopped), 1/2 cup finely chopped onion, 2 seeded and chopped jalapeno peppers, 1/4 cup tomato juice, and 1/2 tsp salt. Stir well and chill. Serve over the Chicken Enchiladas with Sour Cream.