Chicken & Egg Rice Bowl / Oyako-Don
Masaee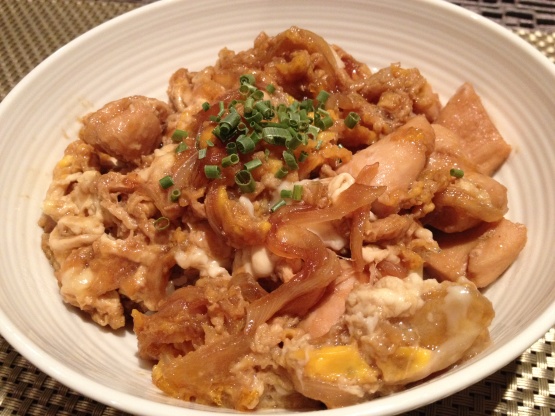 This is one of the most popular Japanese dishes. Easy, tasty, and healthy!

This is a wonderfully simple recipe, can be whipped up in less than 20 minutes (this includes chopping etc, and I'm not the quickest chopper in the world!) so perfect for a weekday dinner. It also packs well for lunch the next day. I've made it for the second time now, and I still love it. Thank you!
Cut the chicken into chunks and slice the onion.
Heat the stock, then add soy sauce, mirin, and sugar, then let it boil.
Add the onion and chicken to the stock. Leave it until the chicken is cooked. Do not boil it too much.
Break the eggs into bowl but separate one egg york and gently whisk.
Once the chicken is cooked, pour the egg (with egg white) over the chicken and onion leave it until the egg is cooked. Add the egg york and remove from the heat.
Serve over the steamed rice and sprinkle the chives.