Chicken & Egg Rice Bowl / Oyako-Don
Masaee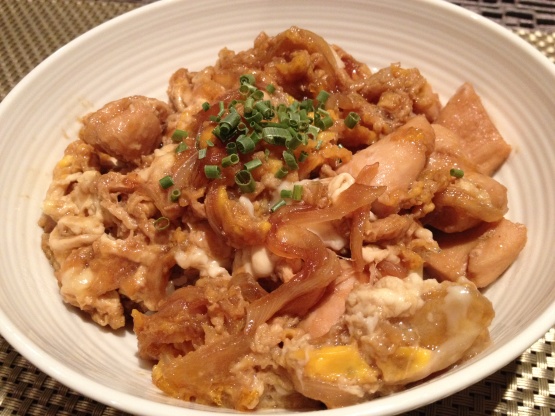 This is one of the most popular Japanese dishes. Easy, tasty, and healthy!
Top Review by Nurit
This is an excellent, authentic oyako-don recipe. <br/><br/>Dashi may not be a familiar ingredient. It is broth made from seaweed and flavorings. It can be vegetarian (seaweed or mushroom based) but is often made from bonito. You can even get it in convenient powder form, where you just add hot water, similar to bouillon. I have seen it at normal grocery stores (check the Asian section) <br/><br/>The sauce in this recipe can be easily adapted to other meals. I have used it to simmer chicken and vegetables, then served over sticky rice. The sauce has a good balance of umami, sweet, and salty flavors. I usually add extra dashi and use low sodium soy sauce.
Cut the chicken into chunks and slice the onion.
Heat the stock, then add soy sauce, mirin, and sugar, then let it boil.
Add the onion and chicken to the stock. Leave it until the chicken is cooked. Do not boil it too much.
Break the eggs into bowl but separate one egg york and gently whisk.
Once the chicken is cooked, pour the egg (with egg white) over the chicken and onion leave it until the egg is cooked. Add the egg york and remove from the heat.
Serve over the steamed rice and sprinkle the chives.