Lazarus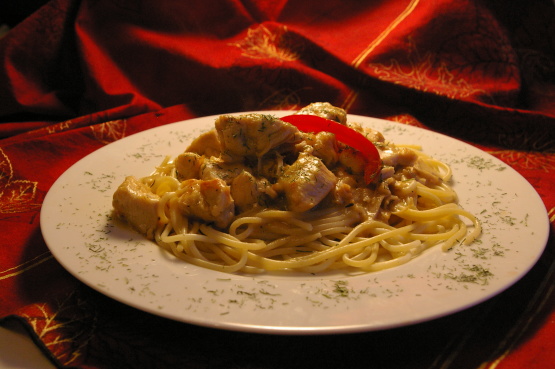 Based this off of a chicken marsala recipe and made the rest up. Very tasty.

I changed the recipe a little bit. I doubled the garlic - not something I would recommend for everyone, but we really, REALLY love garlic. I found out too late that we were out of butter and margarine, so I used canola (cooking) oil in lieu. Nice texture, good flavour, but I felt it was missing something. Adding a generous squirt of fresh squeezed lemon juice livened it up considerably. I'll definitely make this again, and next time I'm using butter! Made for PAC Spring '08
Cut up all Chicken Breasts into bite sized cubes.
melt 3 tablespoons of the butter in a large skillet.
mix together the flour and the salt and pepper meant for the batter.
Carefully coat all chicken cubes and brown in skillet.
Remove and place in a shallow dish and cover (this keeps juices in).
melt down the rest of the butter.
mix in garlic, and all spices.
add chicken back into the mix and coat throughly.
Add in White wine, allow to come to a boil for 5-7 minute.
after the wine has cooked down, add in chicken broth, bring to a boil and then simmer for an additional 5-7 minute.
I reccomend serving this over pasta. Very tasty.