Chicken Breasts in Curry-Honey-Mustard Sauce
PaulaG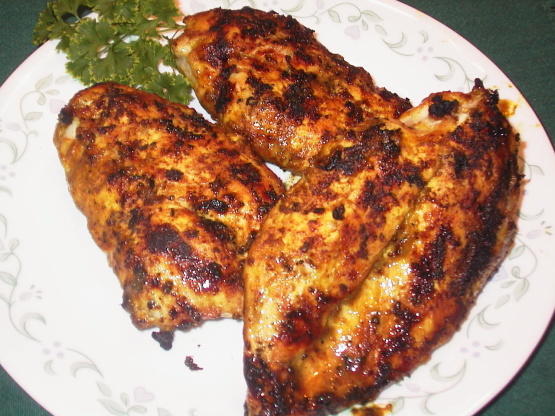 Wanted to make a "honey-dinner" on Rosh Hashana and this was the main course.

I cut this recipe down to serve 2 and ity worked out fine. Of course realizing I had bone in boobs at the last minute was kind of a bummer. I just adjusted the cook time a tad everything was perfect. The meat was juicy. We like the zip the curry and cayenne gave the chicken. I will make this one again.
Melt the margarine in an ovenproof pan.
Add honey, mustard, curry powder, cayenne pepper and cumin; mix well.
Add the chicken breasts and make sure they are covered by the sauce.
Cover and marinate in the refrigerator for 4 hours or more.
Preheat oven to 375°F.
Remove from refrigerator and bake covered for 10-15 minutes.
Remove cover and bake 10-15 minutes more until done and juices run clear.
Baking time will depend on the thickness of the chicken breasts.