Chicken and Strawberry Spinach Salad
MsBindy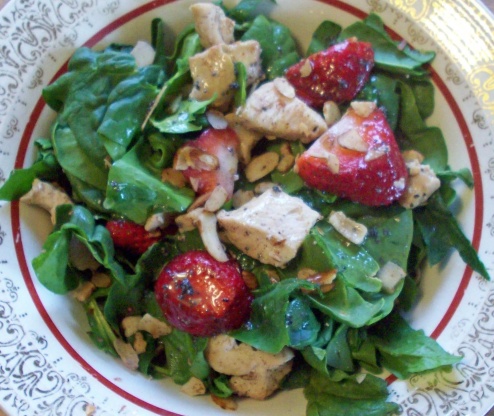 Sweet and savory, great combo of flavors bursting on your taste buds!!!

I stumbled upon this recipe tonight as I looked through the slim selections in my fridge. I really hit the jackpot with this recipe. Today was our first hot day of the year, and this salad was perfect. I used the honey poppyseed dressing from recipe 213485 and together the salad and dressing were bliss. I didn't have a nectarine, so had to skip that and had to sub slivered almonds for the pecans. I really liked the cinnamon almonds. They added so much to this salad. I never would have thought to use the cinnamon. Thanks for such a great dinner tonight.
In a small heavy saucepan or skillet, melt butter.
Add pecans; saute 2 minutes, stirring constantly to prevent burning.
Sprinkle with cinnamon; mix well.
Continue cooking 2 minutes more.
Cool on a foil-lined baking sheet.
In a large bowl, combine spinach, fruit and chicken.
Place on four salad plates.
Top with pecans.
Serve with poppy seed dressing.