Chicken and Cheese Rotolo With Many Cloves Garlic Sauce
2Bleu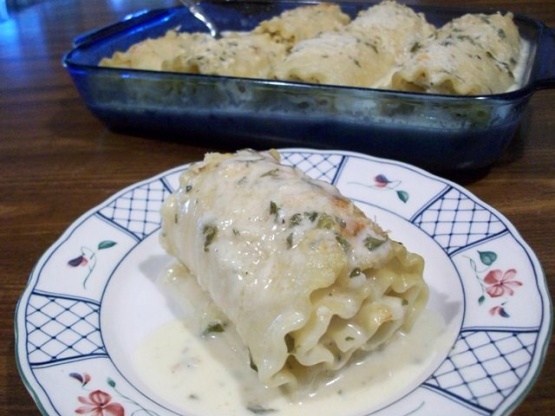 Garlic, Garlic, Garlic, Garlic. Yummy. Love that this recipe uses reduced fat products and still tastes like 1,000 calories! Prep time does not include cooking the chicken or noodles. I make my sauce with all broth and no wine and it turns out great.

I love garlic so this was an easy make for me. The only change I made was to mince the garlic before cooking it and to use some seasoning salt instead of regular salt. I had to use broth instead of wine but think it would be good with wine as well.
Mix chicken, cheese, garlic, herbs, salt and pepper. Spread 3 to 4 tablespoons mixture on each noodle; roll up and place, seam sides down, in 13x9-inch baking dish.
For sauce, Cook garlic in oil in medium skillet, covered, over medium-low heat until tender, about 10 minutes.
Mash cloves slightly with a fork.
Add 1 1/2 cups broth and wine to skillet and heat to boiling.
Mix flour, parsley and remaining 1/4 cup broth and stir into boiling mixture. Boil until thickened, about 1 minute. Season to taste with salt and pepper.
Spoon Many Cloves Garlic Sauce over rotolo. Bake loosely covered at 350 degrees until rotolo are hot and sauce bubbly, 20 to 30 minutes.
Note: You may want to cut lasagna noodles in half before filling, (and of course use less filling per noodle half) to make them easier to handle when eating!