Chicken and Cheese Enchiladas
NELady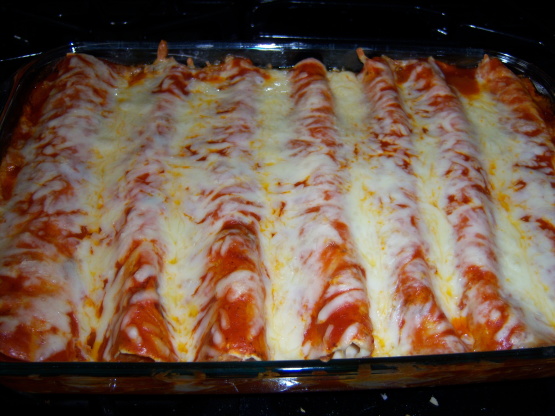 A little different version of a family favorite. Whenever we grill or smoke chicken I always request that my husband do a little extra, so that there is enough to make chicken enchiladas the next night.
I have been making these since 2009 as well. I alternate ingrediants every once in a while. I add black olive slices and sometimes chili powder depending on how spicy I want it. They are loved every time. No leftovers. You can also use taco seasoning or fajita seasoning. I throw in some garlic and it's yummy!
Heat oven to 350 degrees F.
In resealable plastic bag, mix taco seasoning, oil and 1/4 cup of water. Add chicken pieces; turn to mix. Refrigerate up to 12 hours.
In medium bowl, mix 2 1/2 cups of Monterey Cheese, cilantro, salt, ricotta cheese, chiles, and egg.
Heat 10-inch skillet over medium-high heat until hot. Add chicken with marinade; cook and stir 5 to 10 minutes or until chicken is no longer pink in center.
In ungreased 13x9-inch glass baking dish, mix 1/2 cup of the salsa and remaining 1/4 cup water. Spread evenly in bottom of baking dish.
Spoon 1/3 cup cheese mixture down center of each tortilla. Top with chicken; roll up. Place filled tortillas, seam side down, over salsa mixture in baking dish.
Drizzle enchiladas with remaining salsa. Sprinkle with remaining 1/2 cup Monterey Jack Cheese.
Bake 20 to 25 minutes or until cheese is melted.