Chicken and Cabbage Casserole
Zurie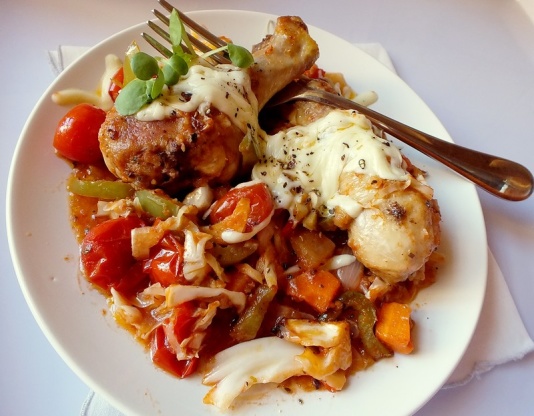 This is a good combination of ingredients and flavors with a good result. Hope you enjoy it.

Top Review by Zurie
Made for DINING ON A DOLLAR, Feb.2013. This recipe was a lovely surprise -- real homey, savoury, comfort food! I was very uncertain about the instruction to bake cabbage with the chicken for 45 minutes -- wayyy too long for cabbage, I thought. But this chef got it all right. I followed the recipe exactly as it was put down, using perhaps a little more veggies. The only very slight difference (which cannot make a difference to the outcome) was that I used a can of whole cherry tomatoes in their sauce (all I had). For seasoning, I used a local "Grill and Braai Seasoning", as McCormick is not available here. Adding ketchup to canned tomatoes is a great idea -- it intensifies the flavour. Taking into account that the contest list of ingredients was quite a challenge to work with, this simple dish was a great success with us. I was careful with the mozzarella topping, as mine was the common supermarket type, not the soft buffalo mozz. I added black pepper, and only left it in the oven to start melting, and then removed it. Thank you for a lovely home-style dish full of flavour and goodness! And good luck!
Heat oil in a large skillet over medium-high heat.
Mix flour and seasoned salt in a zip lock plastic bag.
Add chicken drumsticks, two at a time into the bag. Lock and shake bag to coat chicken well.
Add coated chicken to skillet. Cook, turning occasionally until browned.
Place chicken in a medium baking dish prepared with oil spray and heat oven to 350ºF.
Add chopped onion, green bell pepper and carrot to skillet. Cook until cripsy tender for about 5 minutes.
Mix ketchup with undrained tomatoes, oregano, and salt. Bring to a boil.
Add cabbage with vegetables and tomato sauce and mix well. Spoon over chicken.
Cover dish with foil. Bake until chicken is cooked through for about 45 minutes and the cabbage is tender but not overcooked.
Remove foil; sprinkle mozzarella over chicken. Bake until cheese is melted, about 5 more minutes.
NOTE: I made this recipe again, adding 4 tablespoons of chopped green peppers and carrots (instead of 2 tablespoons). Reduced the salt to 1/2 teaspoon and Mozzarella cheese to 1/2 cup. Thanks to the reviewers for their good suggestions.