Chicken and Broccoli Tortellini Soup
lazyme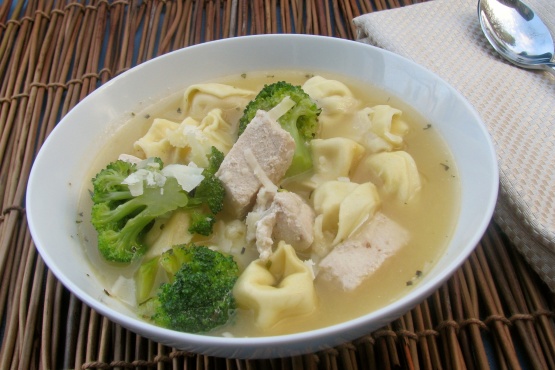 Recipe by iewe
A quick and easy soup to throw together -- great for cold (yet hurried) nights!

I just made this for dinner tonight, and I was going to post it, and here it is! I found this recipe in a Betty Crocker Soups, Stews, and Chilies magazine that I have, and it is really good, and SO easy to throw together. I said that dinner would be ready in 30 minutes, and it wasn't even that long! It says 4 servings, but I didn't serve it with bread or anything, so we only got two servings from it. This is an awesome recipe to use when you have only 3 chicken tenders left from a honkin' huge bag from Sam's club (like I did). I just cooked them plain (unseasoned) yesterday, and chopped them up tonight to throw in here! My husband commented that this was like a "fancy chicken noodle soup," and that is exactly how I would describe it. It's delicious.
1

tablespoon olive oil

1

small onion, chopped (about 1/4 cup)
1 3⁄4 cups chicken broth
1⁄2 cup water
1⁄2 teaspoon italian seasoning

1

(12 ounce) bag frozen cut broccoli in cheese sauce

1

(9 ounce) package cheese-filled tortellini (from the refrigerated section)

1

cup cooked chicken, cubed

1

large roma tomato, chopped (about a 1/2 cup)
1⁄4 cup parmesan cheese, shredded
In 2-quart saucepan, heat oil over medium-high heat. Add onion; cook about 2 minutes, stirring frequently, until crisp-tender.
Stir in broth, water, Italian seasoning, frozen broccoli in cheese sauce and tortellini. Heat to boiling, stirring occasionally and breaking up broccoli.
Stir in chicken. Cook about 4 minutes, stirring occasionally, until tortellini are tender. Stir in tomato. Top each serving with 1 tablespoon cheese.