Heydarl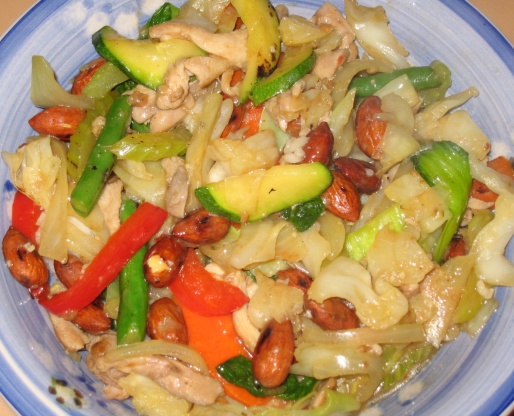 I found this lovely recipe on one of my mother's recipe cards. We have made it many times, but have never been able to put it onto RecipeZaar as we usually just make it from our heads. We mix and match the vegetables, trying new variations and seasonings too. We also sometimes use a different sauce that we have made, which always turns out great!

Excellent and versatile recipe for my wok PollyWK! I marinated the chook strips in homemade teriyaki sauce and stir fried them. Also added a bit of chili to the sauce to spice it up. Thanks from the wild west (Perth).
Bone chicken breasts, cut meat into 2.5cm pieces or strips. Combine with salt, cornflour, lightly beaten egg-white and sherry in a bowl; mix well.
Deep fry the chicken pieces in hot oil until just changing colour; drain.
String beans (or use quick frozen beans) and then dice the onion. Cut beans, celery and pepper into strips and slice the mushrooms. Drain water chestnuts, and cut in half.
Heat extra oil in large, heavy based frying pan, add the vegetables, sauté until tender but still crisp. Add the chicken and heat thoroughly.
To make the sauce, blend the cornflour with water and soy sauce. Add crumbled stock cube, oyster sauce, sherry and tomato sauce. Stir over heat until sauce boils and thickens.
To serve, top the chicken with the sauce, then the toasted almonds, and garnish with the chopped shallots or spring onions.