Chestnut and Cranberry Dressing
Rita1652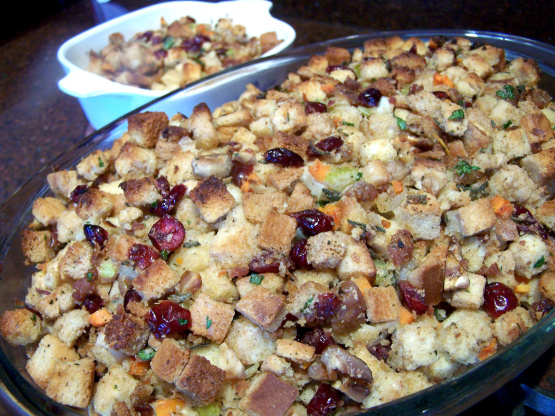 Am I glad I found this recipe again. I cut it out of a Williams Sonoma catalog 2 years ago and made it for my work buddies for a Thanksgiving potluck, they loved it! I'm going to make it again for them this year. You can add 1/2 lb. bulk pork sausage, but I omit it because I'm vegetarian.

Made this veggie-style for Thanksgiving and it was a hit! I'll be making it more than once a year! Thanks!
3

cups unsalted vegetable stock

1

cup dried cranberries

2

tablespoons unsalted butter

1

yellow onion, chopped

1

celery, chopped

1

carrot, peeled and chopped

1

egg, lightly beaten

1

lb sourdough bread or 1 lb country bread, crusts removed, cut into 1/2-inch pieces, toasted in a 325 degree oven for 10 minutes

2

cups chestnuts, halved

2

tablespoons fresh sage, chopped

1

teaspoon fresh thyme, chopped

2

tablespoons fresh parsley, chopped
salt and pepper, to taste
1⁄2 cup walnuts, chopped (optional)
1⁄2 lb pork sausage (optional)
Preheat oven to 350 degrees Fahrenheit. Butter a 2 1/2 - 3 quart backing dish.
In a small saucepan over medium heat, warm the stock until steam starts to rise, 3-5 minutes. Remove from heat and add dried cranberries. Set aside.
In a large frying pan over medium heat, melt the butter and add onion, celery and carrots and saute, stirring occasionally, until tender and translucent, about 2-3 minutes. Using a slotted spoon, transfer to a bowl.
If using, in same pan, saute the sausage, stirring and crumbling with a fork, until lightly browned and cooked through, about 10 minutes. Using a slotted spoon, transfer to the bowl with vegetables.
In a large bowl, stir the egg while slowly pouring in the stock and cranberries. Add the bread and toss until well blended. Let standing, stirring occasionally, until the stock is absorbed, 6-8 minutes.
Add the vegetable mixture, chestnuts, sage, thyme and parsley. Season with salt and pepper and stir well to mix. Transfer to prepared baking dish and bake until browned and crispy, about 45-50 minutes.