Cherry Kuchen (Pronounced Ku-Kah by My Family)
Syrinx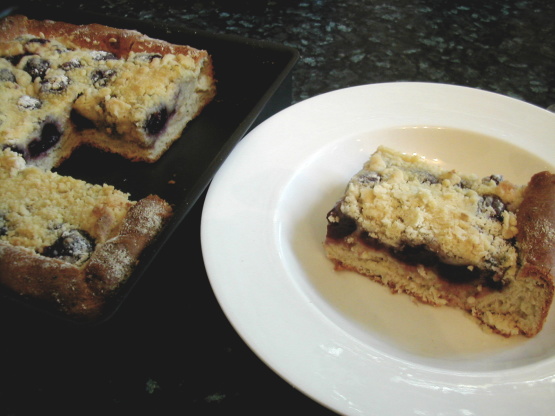 Old family recipe for a coffee cake with fruit topping from a region in Russia where a community of Germans lived. This is my father's version of the recipe which is almost sugar-free. Very good served warm with vanilla bean frozen yogurt or ice cream.

Top Review by Syrinx
Very good. I didn't have any cardamom powder, so I took the seeds out of cardamom pods and ground those up (using a little more than indicated in the recipe). And I used more cherries than indicated, since I only have one 9X9 pan so had to make a half-quantity, but I couldn't think what to do with any leftovers. The flavour of the kuchen was lovely, but I found the crust a little dry (perhaps I cooked it for too long?). I would suggest using the tartest cherries you can find; mine were possibly a little too bland - still delicious, but I can imagine that a bit of sourness would complement the cardamom base and streusel topping very well. I really liked this recipe, and will definitely make it again. Reviewed for Pick A Chef, Fall 2007.
Add water to beaten eggs and dissolve dry yeast in this mixture. Let all these ingredients rest refrigerated for 15 minutes.
Meanwhile, blend with a pastry blender or by hand flour, salt, sugar, butter and cardamom.
In a large mixing bowl, make a ring of blended flour. Pour chilled yeast mixture into the center and work it into dry ingredients. Knead until smooth, about 2 minutes. Form dough into ball and let rest, covered for about 20 minutes.
Roll out dough into 2 9x9 baking dishes. Push edges of dough up against dish to prevent fruit topping from spilling.
For topping, spread cherries over top of dough. With a pasty blender or fork, cut butter into flour and sugar until small crumbs of mixture are formed. Sprinkle crumb mixture over top of cherries.
Bake at 400 degrees for 20-25 minutes until topping begins to golden.