Fruit Cake (Fresh Fruit in the Shape of a Cake)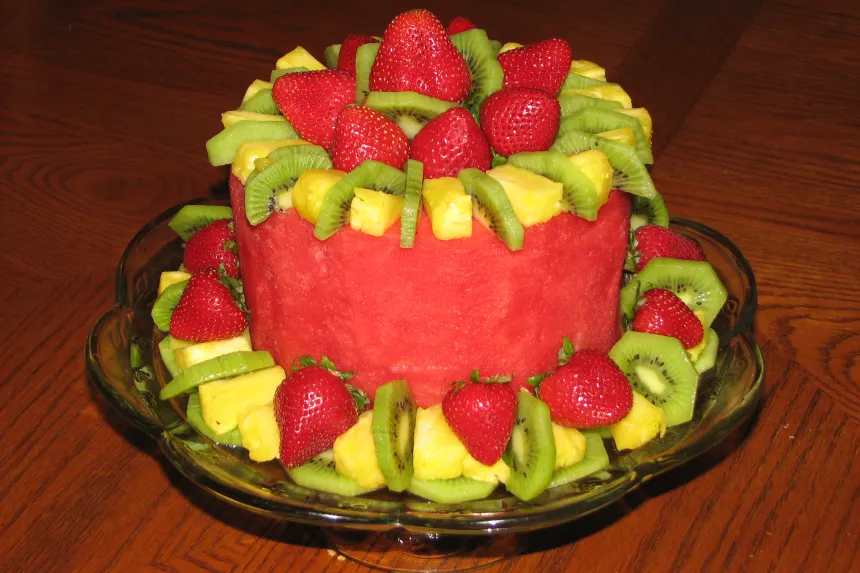 photo by MarthaStewartWanabe

Ready In:

30mins

Ingredients:

4
directions
Lay watermelon on its side. With a large, non-serrated, sharp butcher knife, cut both ends off to form straight edges. Turn watermelon so that it is sitting flat-sides up and down. Carefully trim the rhind off, so it resembles the smooth, straight curve of a round cake.
Arrange pineapple, strawberries and kiwi however you wish atop the cake and around the bottom. If it is being prepared ahead of time, leave the tops on the strawberries to preserve their freshness.
Cover and refrigerate until ready to serve.
The best way I found to serve it was for our guests to pluck their fruit of choice off the "cake" while I sliced chunks of watermelon as requested.
Questions & Replies

Got a question?
Share it with the community!
Reviews
This is amazing! THANK YOU THANK YOU for finally making a recipe available that truly is healthy and fresh. It has been so difficult these past few years to celebrate my husband's birthdays because he doesn't eat anything made with flour and/or processed sugar .... and this cake recipe is exactly what I have been hoping to find. And it's not only delicious and healthy but it's absolutely beautiful! Again thank you!!

 
RECIPE SUBMITTED BY
<p>My name is Rebecca, but my family and friends call me Becky. I am&nbsp;33 years old and live in Rochester, New York, USA. I am a life-long resident of Western New York and can't say as I'd ever want to live anywhere else. I grew up on a small dairy farm in rural Western New York and love country living. Although my husband and I live in a suburb right now, we hope someday to move back to our roots and live a peaceful country life. <br /><br />My husband and I have been married for 10 years.&nbsp; We have a beautiful 5-year-old&nbsp;daughter and a 3-year-old&nbsp;son.&nbsp;&nbsp;I am amazed at how quickly our kids are&nbsp;growing and developing.&nbsp; I read a lot about and hold my own personal skepticism regarding the affects of additives such as&nbsp;preservatives,&nbsp;hormones, artificial colorings, artificial sweeteners, caffeine, allergens, etc.&nbsp; With the increasing number of children and adults with food allergies, I am suspicious that the last century&nbsp;of our nation's food industry improvements have contributed.&nbsp; I'm doing the best I can to protect my family&nbsp;from the risks, but it is difficult to avoid every additive.&nbsp; I have friends and family with food allergies and know how difficult it is to cope with food restrictions. I enjoy the challenge of&nbsp;cooking for those with food allergies but can't imagine making it an every-day affair.</p> <p>I love to cook and entertain for family and friends. It's a great joy for me to serve them delicious, creative dishes. I always anticipate their feedback when they try something I've made. My favorite and most-utilized recipe source is Food.com, and I also have an extensive collection of cookbooks.&nbsp;&nbsp;I enjoy exploring new cooking techniques and experimenting with various ethnic cuisines. I am an avid viewer of&nbsp;Food Network&nbsp;and the Cooking Channel, always looking for new and interesting ideas. <br /><br />I work at a nursing home as an Executive Assistant to the President and Administrator.&nbsp;I love my job. I&nbsp;coordinate board functions, do secretarial work in the Administration Office and supervise Reception as well as&nbsp;enjoy building relationships with the elders. Because&nbsp;coworkers and elders know cooking and baking is my passion, I have earned a reputation. My boss and I have done a cooking program with the elders, where we involved them in making simple dishes and sharing with the rest of the elders in their household. I have done a baking program, where we baked a different type of cake each month to celebrate the elders' birthdays which take place that month. I have&nbsp;been involved in special neighborhood luncheons where the staff in our neighborhood cooks for and serves a small group of elders. I am also part of a Dining Team, which is a group of staff from all disciplines who are exploring ways to make the elders' dining experience more home-like (cooking on the households, having a continental breakfast cart available daily, liberating restricted diets, etc.).&nbsp;&nbsp;And then of course there are staff potlucks throughout the year. Cooking and baking with the elders brings them so much joy and comfort, as it helps to make the nursing home feel a little more like home. It's amazing what the aroma of food cooking and fresh-baked goods can do for the mind and soul! <br /><br />I identify cooking with feelings of accomplishment, peace of mind and reminiscence. My favorite childhood memories involve cooking with my mother and grandmothers. We would enjoy one another's company while cooking for family gatherings. It was always a family effort harvesting, canning and freezing vegetables and fruit in the summer/fall. I wasn't aware at the time, but I was learning generations of recipes and family cooking traditions that would carry through my life and hopefully eventually through my children.&nbsp;&nbsp;We are doing our best to raise them&nbsp;with an&nbsp;appreciation for good, fresh and healthy&nbsp;food and different cooking techniques.&nbsp; My&nbsp;kids have a play kitchen set and pretend to cook and&nbsp;feed&nbsp;baby dolls&nbsp;while I prepare meals. My daughter is very interested cooking, so I have begun&nbsp;involving her&nbsp;in meal preparation and baking projects.&nbsp;&nbsp;She even has her own rolling pin, two aprons&nbsp;and a mini whisk!&nbsp; She LOVES spending time with me in the kitchen,&nbsp;plus&nbsp;she is ever so adorable in her apron.<br /><br />Food.com&nbsp;has given me much joy. I first visited the website in search of a quick chicken&nbsp;recipe and have been hooked ever since, recommending the site to my friends and family. I enjoy posting my recipes and anticipate other viewers' reviews and ratings. The website has encouraged me to become more inventive in the kitchen. Some mad scientist attempts are successful, whereas others may flop. But I have realized you'll never know unless you try! Fortunately, I have my loving and tolerant husband as my primary critic and sometimes unfortunate guinea pig. God love him!</p>
View Full Profile