mpearsol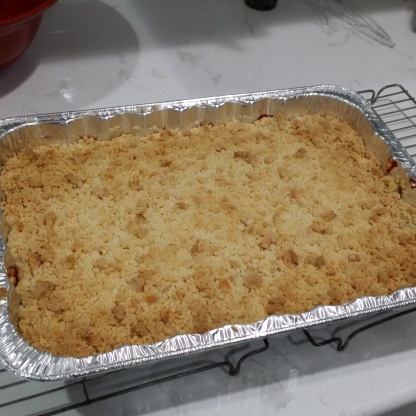 This is a nice change from other cakes....easy to fix too.

This was wonderful! Although, if using a 13x9 pan, it requires 2 cans of 21 ounce cherry pie filling (plus I used about 2/3 cup of salted butter). Now, I omitted the pecans and used a 15.25 ounce box of Duncan Hines yellow cake mix with 3 ounces of unsweetened coconut shavings and several dashes of cinnamon; also, be sure to bake for the entire hour, it should turn out perfectly!
Preheat oven to 325°F.
Spread the pie filling in the bottom of a lightly greased 9 x 13 inch cake pan.
Sprinkle the pie filling with the lemon juice.
In a bowl, mix remaining ingredients to a nice crumble.
Pour onto the top of the pie filling.
Bake at 325°F for 1 hour or until nicely golden brown.
Enjoy.