Cheesy Scalloped Potatoes

Talk about Comfort food!!!!!!!!!!!!! I've also made it with Monterey Jack Cheese to give it a little kick!!
1⁄4 cup butter
1⁄4 cup flour
2 cups milk
8 ounces shredded cheddar cheese
4 ounces brie cheese, rind removed (They now sell it without the rind)
1 teaspoon salt
1⁄2 teaspoon pepper
5 large potatoes, scrubbed and thinly sliced
2 small onions, thinly sliced
4 slices bacon, cooked till crisp crumbled
Directions
Preheat oven 350 degrees Fahrenheit.
Melt butter and blend in flour; add milk cooking until slightly thickened (can be done in Microwave).
Add shredded cheese and brie until melted.
Butter pan and layer 1/2 the potatoes, onions, bacon bits, and sauce then add next layer. (You can do more layers if you want ending with sauce.).
Bake for 1 hour until tender.
Reviews
Most Helpful
These were SO good! And add more evidence to the fact I think bacon makes everything better! The sauce was fantastic too, but the bacon really adds so much to these! The perfect side, these are being added to our dinner rota!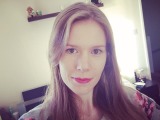 OMG, these were ridiculously good. Cheese, potatoes, bacon and onion...how can you go wrong? I used Monterey Jack and threw in some Caso fresco I had in the fridge. I also cranked up the oven to 400 degrees for the last 20 minutes and got a wonderful crisp top. Perfect. Thank you.

I used smoked cheese (pepperjack and cheddar) and I sauteed the onions with the bacon instead of including them raw. This gave the dish a wonderful, smoky, caramelized flavor. The dish was a huge hit. Cook time was right on and the sauce to potato ratio was also good. 15min prep time is ambitious unless you use pre-shredded cheese and pre-sliced potatoes.