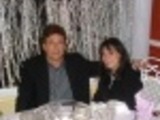 From Woman's World Magazine 12/7/04. Guaranteed you will probably have all of these ingredients on hand.
Directions
In pot cook bacon over medium-high heat until crisp, 6-8 minutes; drain on paper towels. Crumble; reserve.
To fat in pot, add onon, salt and pepper; cook, stirring occasionally until tender. Add broth. Increase heat to high; bring to boil, scraping up browned bits from bottom.
Reduce heat to medium; stir in milk, dry potato mix and bacon. Simmer 5 minutes; remove from heat.
Stir in cheese and sour cream. Garnish with bacon and cheese, if desired.
Reviews
Most Helpful
Very good! needed a smooth creamy soup due to a cracked tooth, so I did omit the bacon and used leftover mashed potatoes instead of instant, but otherwise made as directed.

What a yummy soup on a rainy and coolish late summer evening! I lightened up the soup by cutting back on the bacon and only serving the bacon on top and not in the soup. I also poured off most of the bacon fat. I do not have instant mashed potato mix and used 4 cups of cubed raw potatoes instead, also threw in some cubed celery. I sauteed the potatoes, celery and onion and added chicken broth later. Cooked the potatoes thru, added milk and used a hand blender right in the pot. I did not add any cheese in the soup. Served with shredded cheese and bacon on top, forgot the sour cream but did not miss it. The soup was just wonderful and we did not feel that it lacked flavour at all. Made for 1-2-3 tag.

I am amazed at how quickly this soup was finished and the taste was quite enjoyable. My son who is not a huge cream soup lover is finished with his 2nd large bowl. I did add some extra bacon to the soup itself and topped with a bit more crumbles and a touch of cheese. Followed your recipe exactly. Next time I may add some cooked potato chunks to give it a bit more texture. To the table in 25 minutes and VERY inexpensive - just what is needed! Tagged in 123 Hits tag game. Thanks Jackie!