Boomette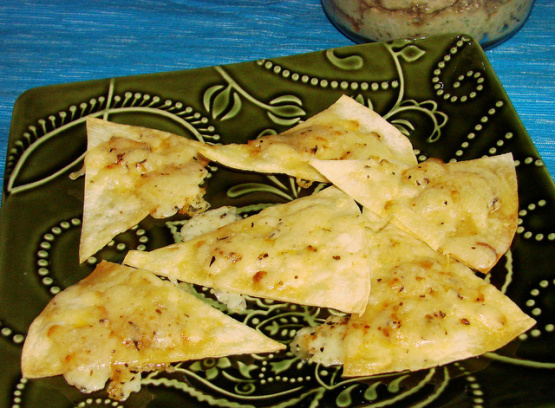 When you get your next snack attack try this easy alternative to fatty chips. **From The Heart Smart Diet Plan on eDiets.
By mistake I used tortillas instead of pita chips. But I'll also try it with pita chips real soon. It was so yummy. I used a cajun seasoning cheese on top of the tortillas. The baking time was the same. Thanks nrpelham :) Made for All you can cook buffet
Preheat oven to 350°F
Lightly brush pita with oil and cut into eighths.
Arrange the pita chips on a baking sheet sprayed with cooking spray and bake for 5-6 minutes or until lightly browned.
Top with cheese and garlic powder, return to oven and bake for 2-3 more minutes, until cheese is melted.
Amount per serving: Calories 149; total fat 2g; saturated fat 0g; cholesterol 5 mg; sodium 208mg; total carbohydrate 20g; dietary fiber 3g; sugars 1g; protein 7g.