Cheesy Crock Pot Potatoes
Parsley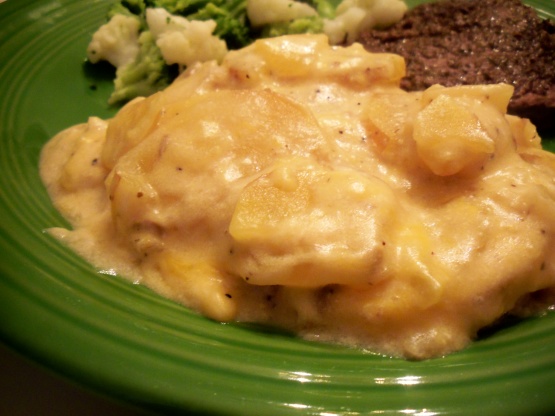 These are very similar to funeral potatoes, but made easier in the crock pot. The amounts don't have to be exact, these are just a good starting point. I have also added diced ham to make this a main course.

I was pleased with these potatoes. They were very cheesy. I sliced them very very thin and they were done after 7 hours on low. I didn't layer the ingredients; instead, I mixed everything EXEPT the cheese in a bowl and dumped it in the crockpot. I mixed in the cheese during the last 15 minutes of cooking so it wouldn't curdle. I thought they needed a little extra flavor. Maybe I'd add some garlic and/or some herb or spice next time. Thanx for sharing!
Mix soup, pepper, onions and sour cream in a bowl.
Put a thin layer of soup mix on bottom of crackpot.
Layer potatoes, soup mix, and cheese.
Repeat, ending with a layer of soup mix and cheese on top.
Cook on High 4 hours or Low 8 hours.