SnoBahr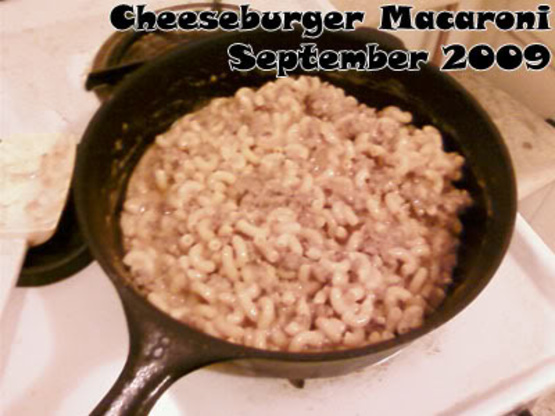 For when you want to know EXACTLY what's in your home-helped hamburger.

Much, much better than the box versions!!! I added a few extras based on one of the reviews and the other recipes I looked at before trying this one. I added 1 tsp salt, 1/2 tsp pepper, 1 tsp sugar, and 1 tsp paprika. Both my DDs gave this a 4 out of five, but one then requested it a week later! Both times I made this I needed to add about a 1/4 cup of water near the end, so I'll start with 3 cups of water next time. This will become a regular part of our meal rotation. Thanks for a great recipe!

I also made this for a friend who broke one ankle and the other foot - I can't imagine not being able to at least hobble for 8 weeks!!!! She and her family liked it very much!
Shred cheese, or cut into 1/2" cubes.
Brown beef in skillet, and drain.
Add water, ketchup and onion powder; mix well. Bring to boil. Stir in macaroni; cover. Simmer on medium-low heat 8-10 min or until macaroni is tender.
Stir in cheese; cook until melted, stirring occasionally.