Easy Chili Cheeseburger Mac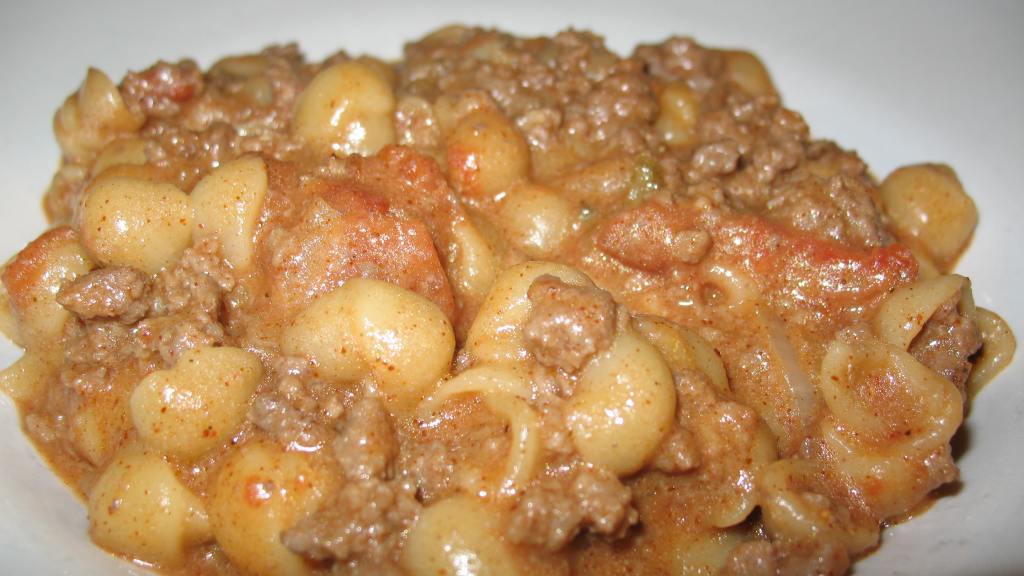 Ready In:

15mins

Ingredients:

8
directions
Boil macaroni.
Brown ground beef, onion and garlic in pan.
Drain water from macaroni and grease from ground beef.
Add milk and margarine to macaroni and stir until margarine is melted.
Mix cheese packet from box into macaroni.
Combine beef mixture, chili powder and tomatoes with macaroni.
Serve when heated through.
Join The Conversation
I found this recipe when I was searching, at 5 PM, for something for dinner that would use a pound of hamburger. This recipe totally matched all my criteria--I had all the ingredients, it was quick, and it had a few good reviews. I wanted to love it, but I didn't. I found it very blah. The cheese flavor was non-existent (even DD - 8 - commented on it). My son didn't like the onions - which remained crunchy even though I sauted them with the hamburger. If I made it again, I think I would saute onions first till soft, then add hamburger. The other thing I found was that it was lukewarm. When you add the tomatoes, it brings the temp of all the rest of the ingredients down. The recipe says to heat through, but not at what temp - you turn off the heat when you make M&C, so I had the burner off - anyone who makes M&C knows that it burns and gets mushy if you leave the heat on, so I didn't. I did add some salt to my portion, and it helped. Very disapointing, because it smelled so good cooking, and it sounded like it would be very tasty, but it was blah. You can't beat it for ease, though.

I'm pretty skeptical when it comes to 'cheeseburger mac' recipes. Most of them are pretty much just 'brown onion and hamburger, add, done'. When I needed a fast meal for dinner tonight and ground beef and mac and cheese was about all I had, I decided I'd find a fast and easy recipe and make it for my kids and have something else myself. I found this one and luckily had all the ingredients. I cooked it up and decided to try a quick bite. I am a believer. lol This is by FAR the best Cheeseburger Mac recipe I have ever tried. I made it exactly as written, using a can of italian style stewed tomatoes. My kids loved it, my husband loved it, I had 3 helpings myself, and plan on eating the left overs for lunch tomorrow. lol THANK YOU for posting this! It's definitely going under my keeper file.
RECIPE SUBMITTED BY
Happily married stay-at-home-mom with an adorable little girl. Likes: Reading, going to movies by myself, good friends, board games, diet Sunkist, privacy. Dislikes: Rude people, red wine, temper tantrums, bullies, Bratz dolls.
View Full Profile