Sara 76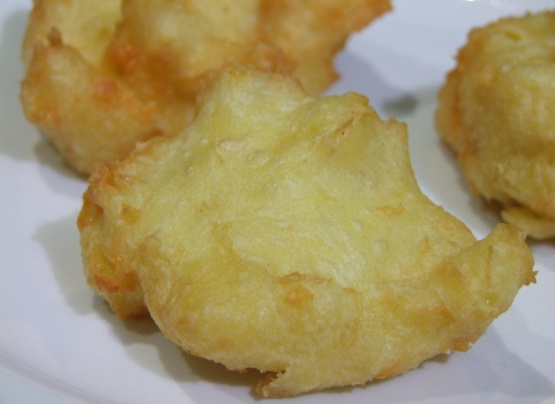 I learnt to make these at college, and have been making them ever since. They are perfect for drinks nibbles, or as part of a larger snack buffet. I use them for footie snacks with lots of dips-the only complaint I get is that I never make enough!! Servings are approximations, as it depends on the size you make them.

Yummo! I made these as an afternoon snack for my kids..but they looked so good I just had to have a bite of one..and wow! So yum! My kids loved them and have already asked me to make them again! I made them exactly as written, and used large dessertspoon's of batter dropped into the deep fryer basket. [Made for PRMR]
Bring the water and butter to a boil in a thick bottomed pan. Remove from heat.
Add the flour, beating it in with a wooden spoon.
Return to a gentle heat, and mix well, until the mixture starts to leave the sides of the pan. Remove from the heat and allow to cool slightly.
Gradually add the eggs, beating well. Add the cheese and seasonings.
Using a spoon, scoop walnut sized pieces of mixture and deep fry in hot fat (185 degrees), or use two spoons and 'quenelle' them into cigar shapes by transferring from one spoon to another.
Allow to cook for approx 10 minutes. Drain and serve with an added sprinkling of parmesan.