Anonymous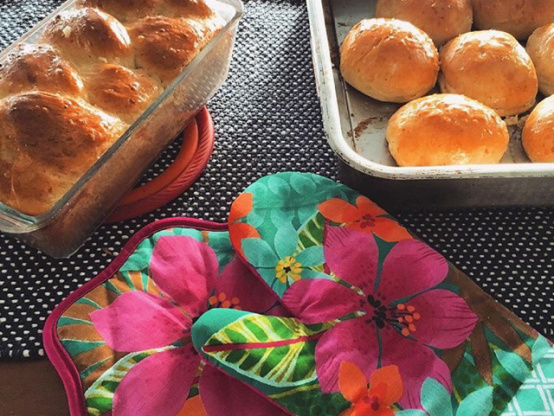 This is a wonderful recipe for cheese bread, if you don't want to add in grated cheddar, add in small cubes of cheddar by hand after kneading. This can also be made on a stand mixer with a dough hook attached. If desired you can add in about 2 tablespoons room temperature Crisco shortening in with the yeast, warm water, sugar and salt, the bread will stay fresher longer and bake out with a softer texture.
Super easy bread that fit the bill for me (I was looking for an accompaniment for a winter veggie stew). Like others, I skipped the caraway seeds and onion, but otherwise followed the base recipe. Mine was one-third whole wheat bread flour and two-thirds unbleached all-purpose flour. I used shredded cheddar and the ends of a chunk of sharp cheddar, which I very coarsely crumbled into the dough, and left the bread with gorgeous cheesy spots. Thinking it might work as a sandwich bread as well, I shaped it into a boule and gave it an egg wash. Tender and delicious!
In a mixing bowl, combine the yeast, warm water, sugar, salt and 1-1/2 cups flour; beat well with an electric hand mixer.
By hand, add in the egg, cheese, caraway seed and dry onion, and as much of the remaining flour as needed to make a soft dough.
Knead on a floured surface or in a heavy-duty stand mixer for about 8-10 minutes.
Transfer to a greased bowl; cover and let rise until doubled (about 1 hour and 15-20 minutes, could take more or less time).
Punch down dough.
Remove from bowl onto lightly floured board; cut into 2 strips, and twist.
Transfer to a slightly greased cookie sheet; tuck in ends of dough slightly.
Cover with a clean tea towel, and let rise until double in bulk.
If desired mix one egg white with 1 teaspoon cold water, brush on bread then sprinkle with, dryed onion, caraway seeds or sesame seeds before baking.
Bake at 350 degrees (convection oven preferably) for 30 minutes.