twissis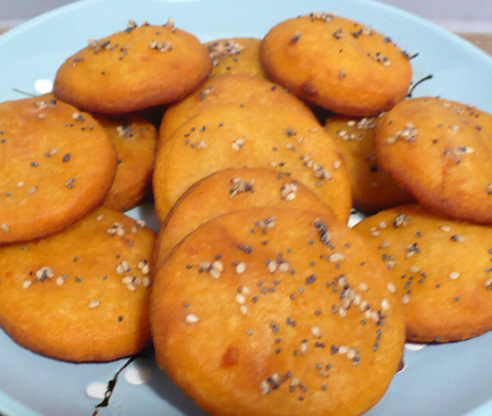 A recipe I foun in my Land O Lakes Cookbook. These flaky, cheesy bites are easy to make and store well.
Oh, my goodness, but these are so yummy! I cut the recipe to a third and got 18, Instead of egg wash just brushed with a little milk and sprinke sesame seeds on some garlic granules on others then left some plain. The garlic were my fav, but would love that added to the seeds. In place of cayenne I added about 4 dashes of hot sauce, which gave a tiny bite to them without being overly spicey. I rolled the dough into a log, put it in the freezer for while then sliced off rounds. Mine baked up flatter then those in the pictures - maybe I cut too thin but the numbers came out right. It didn't matter as they were so delicious. I served them to my DH with a nice glass of Cabernet and he loved them too. They mixed up very easily,and the results were crispy, crumbly, cheesey, YUM!
Combine flour, butter, salt and red pepper in medium bowl; beat at medium speed until dough forms. Add cheese; mix until a ball forms. Shape dough into circle; wrap in plastic food wrap. Refrigerate 2 hours or overnight.
Heat oven to 350°F Roll out dough on lightly floured surface to 1/4-inch thickness. (It will be hard to roll at first, but will soften. Press together any cracks that form on edges of dough.) Cut dough with 1 1/2-inch cookie cutters or pizza cutter into desired shapes. Place onto ungreased baking sheets.
Beat egg white and water together in small bowl. Brush cut-outs with egg wash; sprinkle with seeds.
Bake for 12 to 15 minutes or until very lightly browned around edges. Immediately loosen from pan; let cool on pan.
Recipe Tip
Shortbread can be topped with a variety of other ingredients such as chili powder, seasoned salt, fennel seed or herbs.