Celeriac With Butter and Lemon - Céleri - Rave Saute
gemini08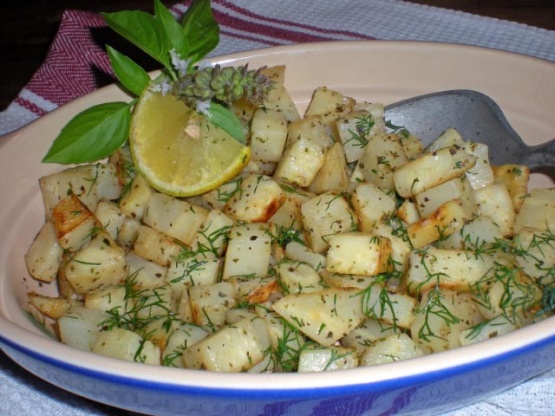 From the "French Farmhouse Kitchen" by Eileen Reece. The French method of cooking the majority of their dishes in enamelled, cast- iron "cocottes" and casseroles, sealed with a heavy lid, is greatly responsible for the fine flavor of their food.
1 1⁄2 lbs celeriac (celery root)

2

ounces butter, unsalted

2

tablespoons corn oil or 2 tablespoons olive oil

1

lemon, juice of

2

tablespoons chopped tarragon, or

2

tablespoons chopped parsley
Peel the celeriac and cut into 1 inch thick slices. Cut each slice into 8 or 10 pieces (batons) and drop into a panful of fast-boiling, salted water.
Blanch for 3 minutes only, drain and pat dry in a cloth.
Heat the butter and oil in a large iron frying pan over medium heat and, when the butter froths, arrange the celeriac pieces in the bottom in one layer.
Season, increase the heat slightly and saute until golden brown, turning the pieces with a spatula and shaking the pan to prevent sticking.
When ready to serve, sprinkle with lemon juice and chopped herbs.
Shake and saute again and correct seasoning if necessary.
Turn into a heated serving dish and serve immediately.