Salmon with Mustardy Celeriac Mash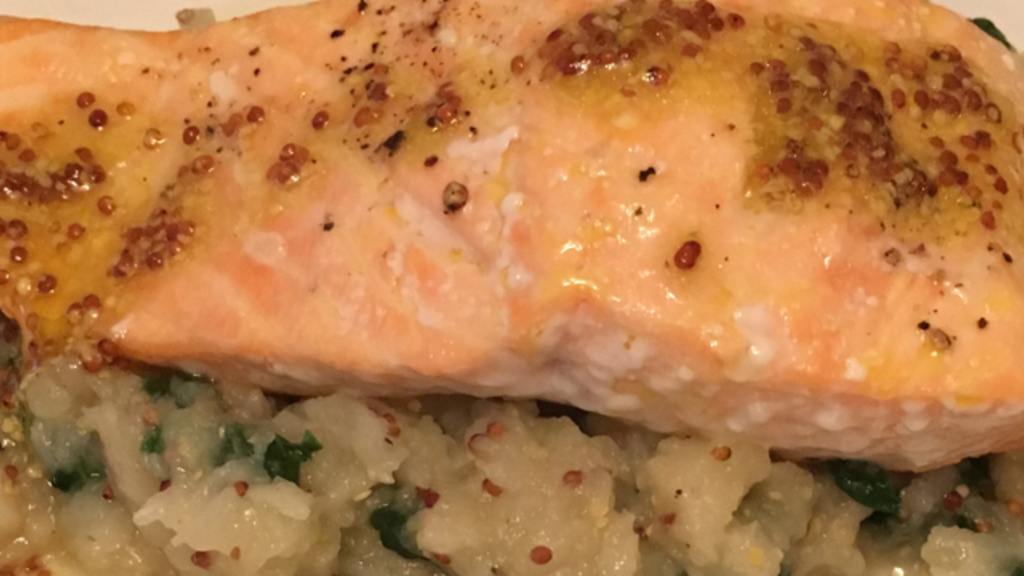 Ready In:

40mins

Ingredients:

6
directions
Brush the salmon lightly with olive oil, and season with salt and pepper.
Line a grill pan with foil and lay the salmon on top.
Place the celeriac in a pan with cold water to cover.
Salt and bring to the boil.
Lower the heat, cover and simmer for 12 to 15 minutes until tender.
Preheat the grill to medium.
Whisk the mustard, lemon juice, a pinch of sugar, salt and pepper and 1 TBS olive oil together.
Set aside.
Grill the salmon for 5 minutes on each side.
Meanwhile, drain the celeriac, reserving 1 TBS cooking water.
Return the celeriac to the pan and mash until fairly smooth.
Add the spinach, stirring occasionally over a low heat until wilted.
Stir in the reserved cooking water and 1 TBS of the mustard dressing.
Season to taste with salt and pepper.
Spoon the mash onto two warm plates.
Top each with a salmon fillet and drizzle the remaining dressing over.
Join The Conversation
I'm so sorry to have not liked it because I was really optimistic that I would. I think it's mostly that I just must not like celeriac. If I make this again (after trying another 5 starred celeriac recipe...I'm not giving up on a new veggie that easily), I'm going to buy one about half the size (I weighed mine at the store) because it was over-powering, IMHO (now that I look at all the photos again, I see that I ended up with as much of the mash as Jenny did, which is more than in the other photos). I think I failed to cook it long enough and mash it well enough, so I'll correct that next time. The mustard sauce was very tasty, though, and I may continue to use that with salmon once in a while.

This is a perfect summer supper dish because it is so light and delicately flavoured. I made no change to the recipe, all worked fine. This was my first time with celeriac, too, and was so happy to find a new easy vegatable. I will make this for guests sometime, as it is so fast and easy, perfect for a dinner party.