Celeriac (Celery Root), Onions & Lemon
Bergy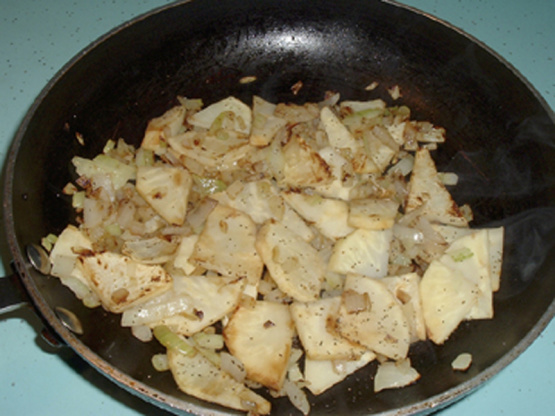 Celeriac is very ugly looking and you do waste a lot peeling it but try it - if you like celery you'll love this vegetable it has a mild celery flavor. The onion & lemon compliment it. I threw this together last night and it was rather good - You have to peel all the knots of the celeric and get in to the white flesh.

Great recipe for a first time celeric eater! I received celeric in this week's organic CSA box and I had no idea what to do with it. This recipe was easy to make and really let us taste what celeric is. The lemon is a great enhancer. Thanks for this recipe!
Peel the root so you have only the white flesh, cut it into pieces apprx 1/8" thick and bite size.
Immerse prepared celeriac in boiling water and boil 5 minutes, drain (keep the water to use in a soup recipe).
Spray a fry pan (large enough to hold the veggies in a single layer) and heat it, Add celeriac& Onions.
Rotate the veggies but allow the onions and celeriac to brown apprx 10 minutes.
Sprinkle lemon over the veggies.
Serve as a side dish vegetable.