Caramelized Sherried Onions
lazyme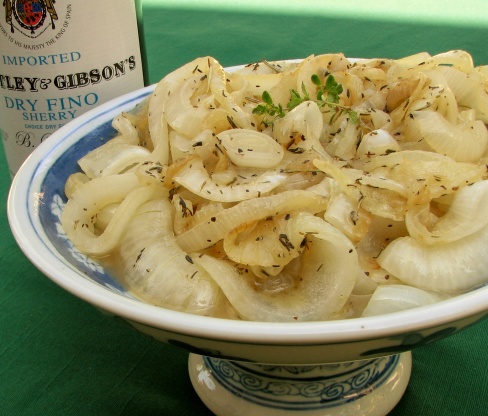 This is a kicked up version of my Caramelized Onions. Garnish a steak or just top a good slice of bread as my DD would do. Top those burgers for the super bowl games. I do love caramelized onions but this is really good with the added sherry gives it a creaminess. This makes a great start to onions soup!

YUM! Rita, I love these caramelized onions. The sherry really makes the dish. I used fresh thyme and rosemary from my garden and followed your recipe to a 'T'. Everything just marries together. I will definitely add these to my rotation. Made and devoured for ZWT5, for Hell's Kitchen Angels.
Heat the oil and butter over medium high heat till it stops sizzling.
Add onions and reduce the heat to medium-low.
Cook slowly, stirring occasionally, until golden brown and caramelized, about 30 minutes.
Add the thyme,rosemary, salt, and pepper, brown sugar and stir well to combine.
Cook for 5-15 more minutes.
Add sherry and reduce.