Caramelized Onion Focaccia ( Bread Machine)
vadapao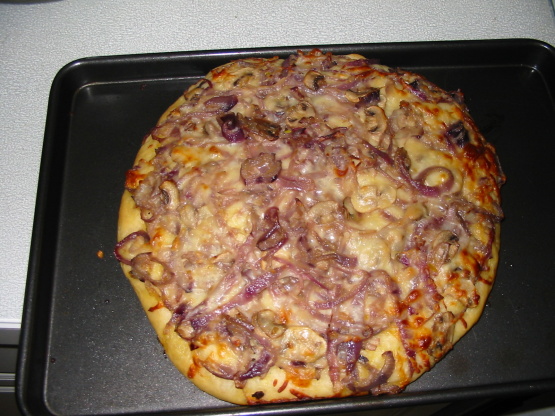 This recipe is very easy and very tasty! I don't remember where it came from originally, but I have been making it for several years. Preparation time does not include the time it takes for the dough in the bread machine.

If you love caramelized onions and good bread, this is the recipe for you! Delicious and fluffy bread with an amazing onion topping. Very filling, could make a great meal with soup and a salad.
Place all ingredients except cheeses and onion topping in your bread machine pan in the order recommended by manufacturer Use dough setting.
When dough is finished, grease cookie sheet.
Pat dough into twelve-inch circle on sheet.
Cover and let rise in warm place about 30 minutes or until almost double.
Prepare onion topping.
Heat oven to 400º.
Make deep depression in dough at one inch intervals with finger or handle of wooden spoon.
Spread topping over dough.
Sprinkle with cheeses.
Bake 15 to 20 minutes or until edge is golden brown.
Cut into wedges, serve warm.
Onion topping: melt margarine in skillet over medium-low heat.
Cook onions and garlic in butter 15 to 20 minutes, stirring occasionally until onions are brown and caramelized.