Garlic Rosemary Focaccia for the Bread Machine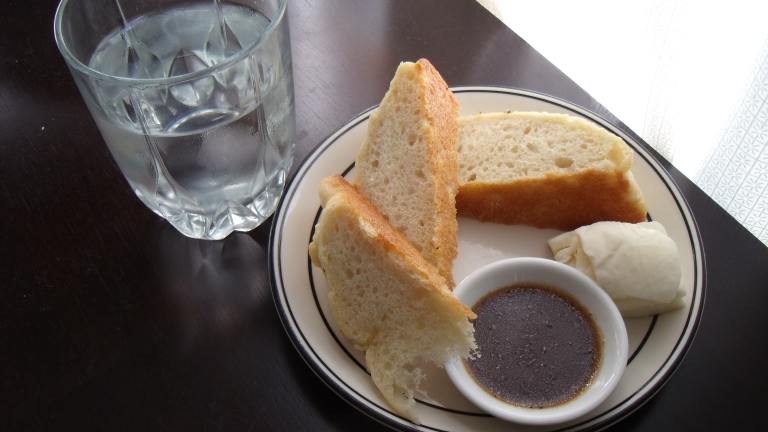 This is my favourite breadmachine recipe. It is so moist and flavourful. Although it is not a high rising bread, it makes great flat italian sandwiches. It is also good warm, served with butter and soup. You can use all white flour if desired, but for best results, follow the recipe. Prep time includes machine's time (your machine may vary)
Ready In:

2hrs 24mins

Yields:

Units:
Nutrition Information
directions
Crush two of the garlic cloves and place it in your breadmachine pan along with the flours, milk, salt, water, 3 tbsp.
Olive oil, honey, and yeast (according to your machine's instructions, some call for liquid ingredients first, other call for dry first) Place the bread pan inside the machine and close the lid.
(I add some of the basil and rosemary at this point as well) Program bread maker for the whole wheat dough mode Turn dough onto floured surface (it is quite sticky, don't add more flour) Divide dough into two pieces and cover and let rest 10 minutes+.
Crush the remaining garlic.
In a small bowl combine garlic with herbs and remaining 1/4 cup oil.
Add salt if desired.
Oil two round cake pans.
Place in dough.
Brush dough with garlic oil.
Bake in bottom third of preheated 400 oven for 18-24 minutes.
Until golden brown.
Submit a Recipe Correction
RECIPE MADE WITH LOVE BY
"This is my favourite breadmachine recipe. It is so moist and flavourful. Although it is not a high rising bread, it makes great flat italian sandwiches. It is also good warm, served with butter and soup. You can use all white flour if desired, but for best results, follow the recipe. Prep time includes machine's time (your machine may vary)"
Join The Conversation
I followed the recipe, but it has two cups of whole wheat flour, making it taste heavily like a whole wheat bread, couldnt figure out what was wrong, there was such great reviews for this one. I put some jalepenos and cheddar cheese on the top, it made it taste yummy, but dont think I will try this one again..

Absolutely fantastic! I made this yesterday and it was great. I loved it, my husband loved it and my friend loved it. I also didn't have any milk so I too used 1/4 cup milk and 1 cup water (wish I had read the review that had done that before me :P) I eyeballed the herbs and the honey but it turned out fine. I also served it w/ a balsamic/oil dip from all recipes and some fresh mozzarella and tomatoes. I'm looking forward to what's left over for lunch!

OMG!!! Heaven,... I used to work in a bread store and have become used to "good real" breads. This is truly wonderful.<br/><br/>I took the advice of another poster and used real milk instead (it is all I had)<br/>I used ALOT more herbs, probably twice as much, because I had it garden fresh and am a rosemary and basil addict<br/>I used more than half of these within the actual dough too. (probably 2/3)<br/>I used all white flour (again unfortunately didn't have wheat when I decide to do it)<br/>I did not split the dough and instead baked it in a large deep dish pizza pan (Again didn't have two cake pans.... I have silicone instead for cakes)<br/><br/>One mistake I did was not let it rest the last ten plus minutes before baking. I was soo excited I forget!!! It is probably a little denser than intended but it is magnificent and noone even noticed.<br/><br/>I love this and I will pass it on to everyone that asks for a truly fantastic focaccia bread!!! Thanks for posting it ;-)