Shasha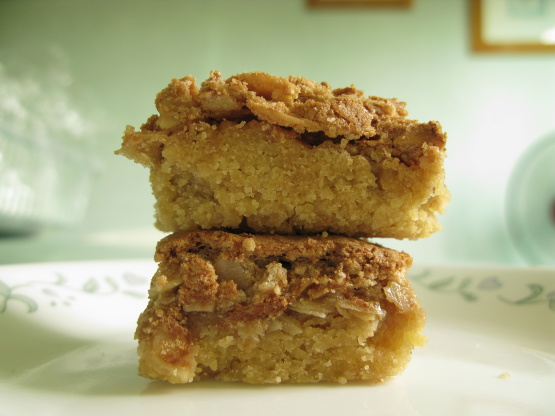 This recipe is from my cousin who is a great cook. They are one of my favorite squares.

Family and guests alike, all loved it; the few pieces that remained uneaten were eaten the following day and they tasted even better - this could be one of those recipes where the taste and texture of the final product is enriched with time.
I didnt add nuts bec I wasnt sure if our guests suffered from a nut allergy, and $it turned out just fine; though I would've loved the crunchiness of nuts, such as almonds, which are our favourite. Will add nuts next time.
For crust: cream butter.
Add brown sugar.
Add beaten egg yolks and beat well.
Add flour and combine thoroughly.
Spread mixture in bottom of greased 8" square pan.
For topping: beat 2 egg whites until stiff.
Blend in lightly packed brown sugar.
Add vanilla, salt and fold in nuts.
Spread over crust.
Bake in preheated 350 degree oven for 30 min.