Caramel Popcorn (not too sweet or sticky)
Redsie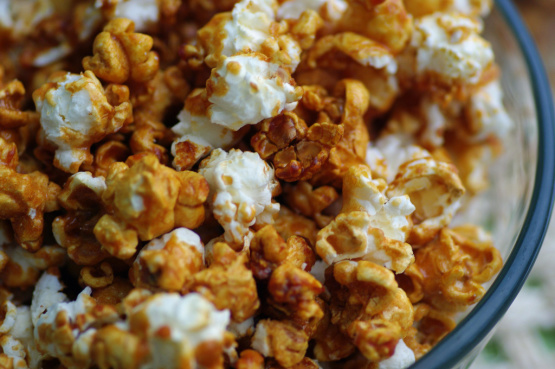 I think this is a great caramel popcorn recipe, and I have tried quite a few! They were either too sticky or too sweet. This one is neither. The caramel dries well and doesn't stick to your fingers, and the sweetness is just right. I use spanish peanuts in this, but you could use other kinds of nuts, too. Here I was searching for the perfect caramel corn recipe, when all the while it was right in my recipe box! This is done in the microwave, and is very simple to make.

perfect, easy, mess free caramel corn recipe! I have made quite a few batches, testing my microwave and tweaking the cooking times to keep the candy super crunchy without burning the sugars. I found that 1/3 cup of unpopped corn will give you about the right amount of kernels. also spraying the wax paper with a bit of non-stick spray really helps. This recipe produces a beautiful buttery super crunchy popcorn, a real hit at the farmers market, and so easy to make that I can do it in the morning before the market. Thank you!
Prepare microwave popcorn as directed on bag.
Remove any unpopped kernels.
In 2 quart microwave-safe bowl, microwave butter on high until melted, about 1& 1/2 minutes.
Stir in sugar and corn syrup, and microwave on high for 4-5 minutes.
Stir in vanilla and baking soda until blended.
Stir in popcorn, mixing well.
(It may be a bit tricky to mix the popcorn in at first, but the more you stir, the easier it gets.) If you are using nuts, add them here too.
Microwave on high for 4 to 6 minutes, stirring every 2 minutes to coat popcorn evenly.
Transfer caramel corn to tray lined with waxed paper, or parchment paper.
Cool and break popcorn apart.
Store in airtight container.