Caramel Apple Pie Filling (Oamc)
Hippies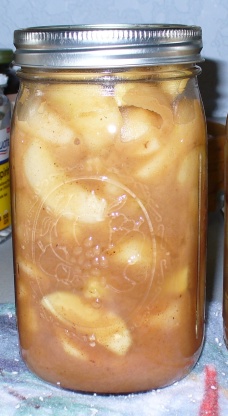 This is a recipe that my husband came up with when we had a lot of apples after apple picking several years ago. It has become a family favorite and one that we look forward to making after what has become a fun annual family outing at a beautiful orchard. We like using a combination of at least two or three varieties of apples for flavor and texture. Our favorite combination is Macintosh, Jonagold, and Granny Smith. I double or triple this recipe to can or freeze to use later in pies, over ice cream, on my oatmeal, or straight up, but it is so good it doesn't last long.

Really tasty. I was not sure if I was supposed to cover the pot while the apples were cooking because it became quite dry after a while. I took it off the burner when the apple slices were still mostly intact but their crunch gone. I used mainly Granny Smith apples and the rest were Macintosh. I used allspice to replace the nutmeg as we don't consume it because of it's intoxicant properties. I used dark demerera sugar, salted butter, sea salt and did not need the starch. But if anyone needs it to be corn free, tapioca starch works the same. Made for PAC Spring 2010.
Peel, core, and slice apples. Should be about 6 cups of apples when sliced. Toss with lemon juice, cinnamon, and nutmeg.
Cover or place into a resealable bag and allow flavors to mingle for 30 minutes.
In a heavy bottomed saucepan, melt butter and brown sugar together. Stir frequently. Heat on medium heat until mixture starts to bubble. Add salt.
Add apple mixture and all of the juices. Allow mixture to come to a gentle boil, lower heat and allow to simmer, stirring often, until the firmest apples start to soften. Cooking time can be adjusted to suit your preference for apple texture. My family likes their apples on the softer side, so I let it cook until the firmest apples are fork tender.
If there is a lot of liquid, add 1 teaspoon of cornstarch and stir through. Let this simmer a bit longer because the cornstarch will not thicken unless the liquid is at a boil.
Ladle into a prepared quart jar with at least 1" headspace and proceed with sealing. Or ladle into a container for freezing. 1 quart will fill one pie generously.