Pumpkie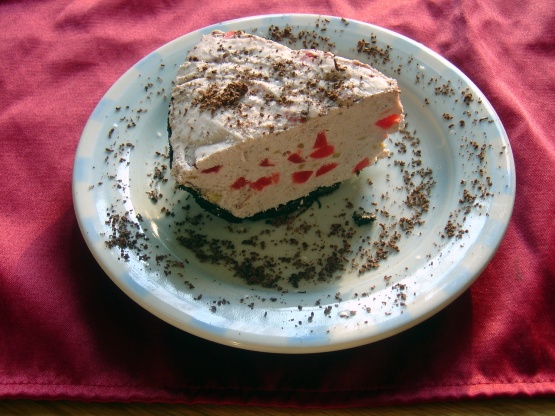 Got this recipe from my aunt several years ago. The cook time is actually the time to chill the pie.

I tried this recipe because it sounded different and because I love cannoli's. It was very easy to make. As I was making it, I said: "If this is good, I'm going to make this all the time." It's quick and there's not a lot of clean up. Unfortunately I didn't like it. I made it for my husband and brother. We all ended up picking out the cherries and chocolate (I used mini chips) and leaving the rest. We didn't like the texture and I wasn't a big fan of eating it half frozen/half thawed. I probably will not make this again.
Brush the pie crust lightly with the melted butter and place the crust into freezer while preparing the filling.
Place all the other ingredients into a large bowl and mix well.
Fill the pie crust with the ricotta filling.
Cover lightly with plastic wrap and place in freezer.
Chill for at least 8 hours.
Before serving, remove from freezer for 15 to 20 minutes.
I usually pour some hot fudge sauce on each plate and place a slice of pie in the middle of the sauce.