Cajun Fish & Rice Pilaf (21 Day Wonder Diet: Day 19)
Sara 76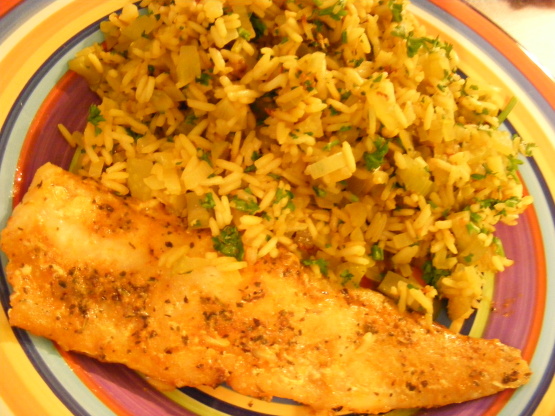 This is Day 19: Dinner, on the 21 Day Wonder Diet. The pilaf is so delicious!
Spray base of a medium saucepan with cooking oil. Cook onion, celery and garlic, stirring, for 5 minutes. Add spices; cook, stirring, until fragrant.
Add rice; stir to coat in mixture. Add stock; bring to the boil. Reduce heat; simmer, covered tightly, about 20 minutes or until rice is tender and liquid is absorbed. Stir in parsley.
Meanwhile, spray medium frying pan with cooking oil. Sprinkle fish with cajun spice; cook in pan.
Serve pilaf with fish.