Linda B.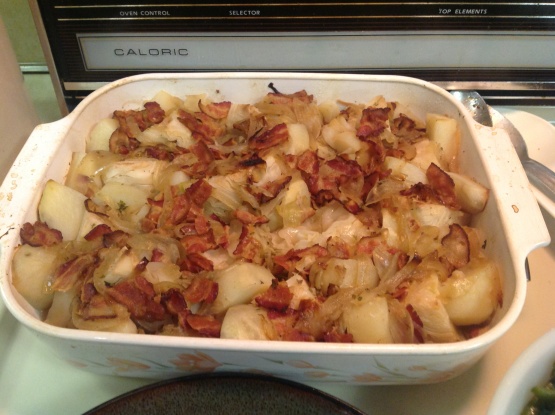 My sister brought this recipe to one of our family gatherings. Was the best cabbage and potatoes I have had to date. Trust me, it's good.

This is an Emeril Lagasse recipe from 2001. I have been making it for years. My Family loves it. I use sweet onions(vadiala etc.) it really adds to the flavor.
Preheat the oven to 375 degrees F.
Rinse the cabbage under cold running water and remove the tough outer leaves. Cut the cabbage into quarters and remove the hard core. Cut the cabbage quarters into halves and place, rounded side down, in a roasting pan.
Cut the potatoes in half crosswise and peel. Cut the peeled potato halves into quarters, and arrange in the roasting pan, alternating with the cabbage pieces.
Fry the bacon in a heavy medium skillet for 7 minutes. Add the sliced onions, salt, and black pepper to the pan and cook until soft, about 5 minutes. Evenly distribute the bacon mixture and pan drippings over the vegetables, then pour the chicken stock on top. Tightly cover the pan with aluminum foil and bake for 1 1/2 hours.
Remove the pan from the oven and allow to sit, covered, for 15 minutes before serving. Serve the vegetables with the bacon and broth spooned over them.