Cabbage and Bacon Bake (Fouson de Chou)
Derf2440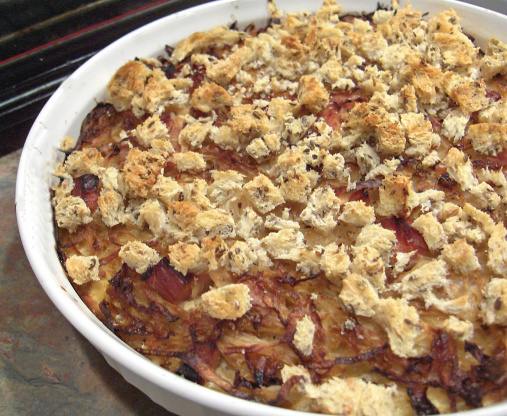 Great taste!! evolved to our taste from French Country Kitchen - Ann Hughes-Gilbey

Oh, Dorothy! I imagined that there must be a recipe for a dish like this out there somewhere... this is even better than I had thought it might be. Great recipe!
2

medium onions, finely chopped

1

tablespoon oil (olive)
2⁄3 cup diced slab bacon
1⁄2 head white cabbage, about 1 lb.,finely shredded

2

cloves garlic, smashed
salt and pepper

2

eggs
3⁄4 cup milk

1

cup soft breadcrumbs
Sweat the onions in the oil in a large pan for a few minutes, then add the bacon, cook until more fat runs.
Mix in the cabbage and garlic, season with pepper and perhaps a little salt, (to taste),depending on the saltiness of the bacon.
Cook for a few minutes until it starts to colour.
Transfer to a shallow baking dish.
Beat the eggs with the milk and pour over.
Sprinkle with crumbs and cook in a 325 degree oven for 1 hour.
Note: to make a complete light meal, increase the amount of bacon, mix the bread crumbs with enough grated cheese to make a generous layer on top, and cook as above.