WiGal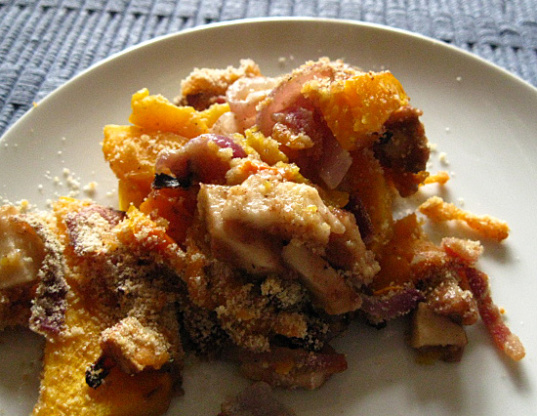 A hearty savory fall dish! Serve with Pinot Grigio or Chenin Blanc for a wonderful Thanksgiving meal.

Top Review by WiGal
Very good! I made as posted including thinly slicing my squash-into about 1/4 inch slices. For the initial baking, it took an hour before my squash was tender. Because I baked it longer, that caused my onions to get too dark and then was worried that they would burn up during the gratin browning so the gratin is not as brown as it should be. Next time I would add the onion right before putting on the gratin. I thought about reducing the bread crumb amount and wish I had. Thanks ~Rita~ for sharing. Made for Photo Tag.
Peel squash and cut in half lengthwise. Remove center seeds and strings, and then slice thinly.
Heat butter in a skillet, over a medium flame. Add onions, salt and pepper and sauté for 10 minutes.
Comine flour, brown sugar and spices. Combine apples and flour mixture toss to coat well.
Place half of the squash into a buttered 9x13x2-inch baking dish.
Arrange half the apples in a layer on top of the squash place the remaining squash on top of the apples. Cover with the remaining apples. Top with the sautéed onions.
Pour stock over all.
Bake at 350 degrees for 45-50 minutes, until squash is tender combine breadcrumbs, cheese, and bacon-mix well. Spread mixture over the gratin. Bake for 15 minutes, until lightly browned remove from heat and allow to cool slightly before serving.