Butternut Squash and Roasted-Garlic Bisque

I found this recipe in Bon Appetit magazine and it sounds delicious. I love butternut squash and am looking forward to making this. Even though there are lots of steps, they sound simple enough and it can be made a day ahead.
Directions
Preheat oven to 350°F
Rub cut surfaces of garlic with oil.
Put halves back together to reassemble heads.
Wrap each tightly in foil; bake until tender, about 40 minutes.
Cool garlic in foil.
Melt butter in heavy large pot over medium heat.
Add onions, carrots and celery; sauté until onions are beginning to soften, about 5 minutes.
Add squash, broth and 2 tablespoons sage.
Bring to boil.
Reduce heat; simmer uncovered until squash is tender, about 25 minutes.
Meanwhile, unwrap garlic.
Squeeze from skin into small bowl.
Discard skin.
Mash garlic with fork until smooth.
Stir garlic into soup.
Working in batches, purée soup in blender until smooth.
Return to pot.
(Can be made 1 day ahead. Refrigerate uncovered until cold. Cover and keep refrigerated. Bring to simmer before continuing.)
Stir in 1/2 cup cream.
Season to taste with salt and pepper.
Transfer soup to tureen.
Drizzle with remaining 1 tablespoon cream.
Sprinkle with remaining 1 tablespoon sage.
Most Helpful
I cut the squash in half, coated with olive oil and roasted in the oven at 350 for an hour, then peeled and cut it up. It turned out really well, an excellent way to use all that garden squash!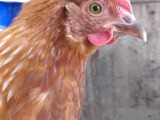 We loved this soup! I sprinkled a little nutmeg on top just before serving. Great, and very filling, winter soup! Thanks for posting.
I think pumpkin soup (which is what we would call this) is almost Australia's national soup. It's made in almost every home, pub and restaurant. This version was outstanding and will be made again soon. I also oven roasted my butternut pumpkin and I used my own home made chicken stock. I served this for lunch and added poached pumpkin ravioli and served grated parmesan cheese at the table. This made a very delicious and filling lunch on a freezing cold winter's day. The soup was outstanding before I made those additions though.