Scalloped Potatoes and Butternut Squash With Leeks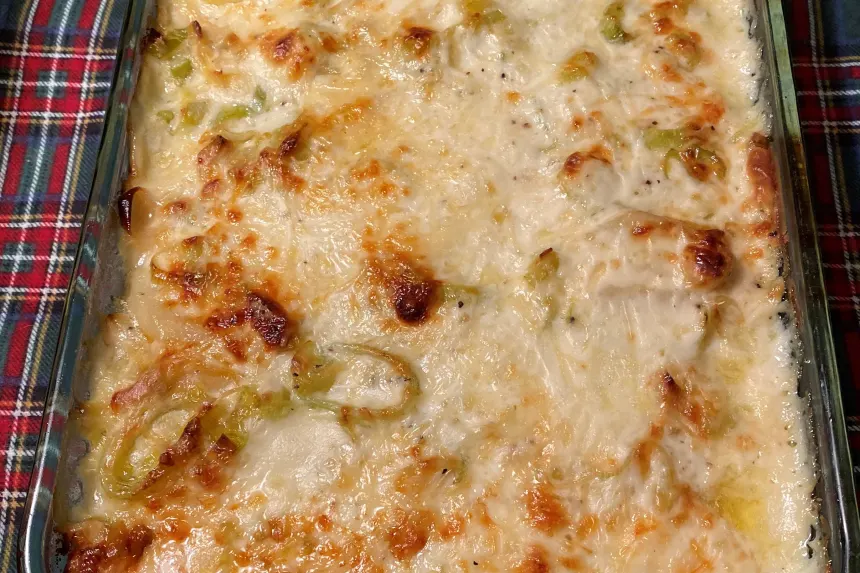 photo by Chef PotPie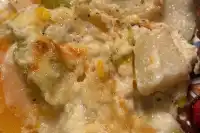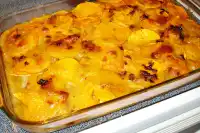 Ready In:

1hr 20mins

Ingredients:

7
ingredients
3

cups leeks, washed very well and then thinly sliced (about 6 large, white and pale green parts only)
1⁄2 cup unsalted butter
3 1⁄2

cups whole milk

6

tablespoons all-purpose flour
1 1⁄2 lbs potatoes (about 4 large)

1

lb butternut squash, peeled, seeded, quartered and cut into 1/8 inch slices

1 1⁄2 cups gruyere cheese, coarsley grated (about 4 ounces)
directions
Preheat oven to 400 degrees.
Generously butter a 3 quart baking dish (at least 2 inches deep).
In a skillet, cook leeks in 3 tablespoons butter over medium low heat, stirring, until very soft.
In a saucepan, bring the milk just to boil (don't scald.just keep warm).
In another heavy saucepan, melt the remaining 5 tablespoons of butter over medium low heat and whisk in flour - cooking and constantly whisking for about 3 minutes.
Add heated milk in a stream, whisking, and bring to a boil.
Simmer this sauce, whisking, for 1 minute - or until thickened - and season with salt and pepper.
Peel potatoes and slice 1/8 inch thick.
Spread about 1/3 sauce in baking dish and cover with 1/3 potato and squash slices, overlapping them slightly.
Cover slices with 1/3 leeks and sprinkle with 1/3 Gruyere.
Make 2 more layers with sauce, potatoes and squash, leeks and Gruyere in the same manner.
Bake, covered with foil, in middle of the oven for about 20 minutes.
Remove foil and bake 30 minutes more, or until top is golden and vegetables are tender. Yum!
*If you prepare this in advance you may need to bake it a little bit longer*.
Questions & Replies

Got a question?
Share it with the community!
Reviews
Wow! This was amazingly yummy! I mean, we like all the ingredients, but I wouldn't have thought of putting them all together in one dish. I'm sure glad someone did! So rich and creamy! It definitely needed salt, so I sprinkled salt and pepper between the layers, and we still used a little more salt and pepper at the table. I'm hanging onto this recipe, and will be taking it to this year's family get together for Thanksgiving! Thanks LIG, for another keeper!

 

My, my, my! This is so delicious! Another winning recipe from LIG!!! I loved scalloped potates and butternut squash so I knew this would be wonderful!! I sent DH to the grocery store to pick up a butternut squash and he came home with a buttercup squash! Well, no time to go back to the store so decided to make do with what I had! Otherwise made this recipe as is. What a wondeful and beautiful potato dish! I will be making this again very soon! Thank you GF!! Made for KK Chef's Pick

 

My first review has been zapped into the fourth dimension! So here goes again. I love all the key ingredients in this recipe so my expectations of loving it were indeed high. I felt, however, that (to meet our taste preferences) it would benefit from a couple of additions which would add further variation to the flavour and texture. I added 3 Granny Smith apples (peeled and sliced to the same thickness as the potatoes), 1/2 a cup of chopped pecans, a flat teaspoon of brown sugar (just the teeniest amount) and sprinklings of cinnamon. I added some of each of these between each layer. As I'm usually one who who considerably reduces or omits sugar in recipes, it was with some ambivalence that I added it here, but it seemed such a natural pairing with the apple and cinnamon. The end result: absolutely fabulous. We thoroughly enjoyed this dish and would happily eat it as a vegetarian main course dish so I will certainly be making it again - often. And next time, for variation, I'm going to use walnuts. I'm also going to sneak in a liitle wine, perhaps by adding 1/2 a tablespoon to the leeks while they're cooking. For the moment, however, I'm happy that we have several additional serves in the freezer! Thank you so much for sharing this truly wonderful recipe, LifeIsGood!

 
Tweaks
Like LifeIsGood, I love, love, love this recipe! I made some modifications (and I'll do them again so as not to risk a different result it was that good!) First, like another reviewer suggested, I used vegetable broth in place of the whole milk. Very happy with the creamy sauce that resulted. I also used Earth Balance margarine in place of butter. (I did use Gruyere cheese, but I can imagine leaving it out or using vegan cheese to make this a great dish for vegans.) I also didn't have quite enough leeks, so I added a half of an onion. I thought I had enough potatoes, but didn't so I used sweet potatoes. I know it sounds like a lot of changes, but the spirit of the recipe was still there and I absolutely LOVED it. Also, it took about 20 extra minutes to cook. But it's easy to test with a fork to make sure it's really tender. I think my version is a little lower calorie, and because it will serve more than the 6 indicated on the nutrition info, I don't even feel guilty about enjoying this wonderful dish. I'm putting this in my "good enough for company" book right now. Thanks for posting!!

 

Quite the process to put together but it tasted great. The only changes was I used salted butter & brick cheese instead. We are starting to enjoy scalloped potatoes with a chicken broth base (vs milk) so I'd like to try this one with that variation. Really enjoyed the leeks & squash in the recipe, thanks for sharing.

 

Review My Recipe 2008 ~ This was de-lish!! I halved the recipe as there is only the two of us. I was going to have the leftover for lunch today, but the Midnight Fridge Raider (aka DH) ate what was left! I'll just have to make some more! Thanks LisG. UPDATE 3/8/08 ~ made again but subbed sweet potatoes for the squash and cheddar for the gruyere. Slight change in taste but was still great!

 
RECIPE SUBMITTED BY
Hello! I have a wonderful husband and two fantastic kids. I love to read, have fun with family and friends, stay active with: running; soccer; golf; biking; hiking; and gardening. I love to travel. I'm looking forward to more international travel someday. Cooking has become a passion for me. I love to read cookbooks, watch the Food Network, and try new recipes. I have way too many cookbooks! A few of my favorites are: Barefoot Contessa (any - but especially 'Family Style'),Rachael Ray 30-Minute Meals 2, Roasting by Barbara Kafka, Beyond Parsley & The Black Dog Summer on the Vineyard Cookbook. I try to carefully choose recipes that I think my family will enjoy, which is why most of my ratings are 3-5 stars. Happy cooking!
View Full Profile