Buttermilk Glazed Carrot Cake
Hanka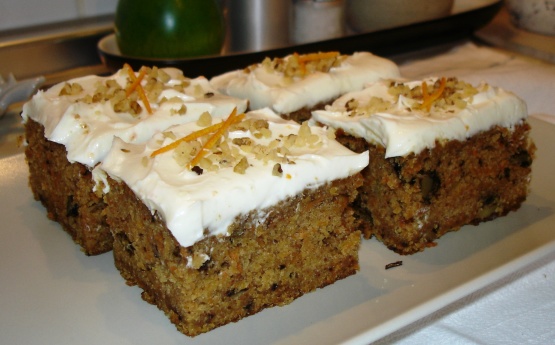 It is the buttermilk glaze that sets this apart from ordinary Carrot cake. In one word, moreish....

This is the bomb carrot cake. I actually sell cakes for a living and this tis he recipe I use with one exception. I don't use the buttermilk glaze and the cake is still very good. I found that the buttermilk glaze makes the cake too wet and waaay too rich. The cake is excellent without it and I get plenty of request for this cake.
LIne three 9 inch cake pans with waxed paper and lightly grease and flour the wax paper.
Mix the flour, soda, cinnamon and salt together.
Combine the eggs, sugar, oil, buttermilk, and vanilla in a mixing bowl and beat until smooth.
Add the dry ingredients gradually, mixing well after each addition. Fold in the carrots, pineapple, coconut and pecans.
Spoon into prepared pans. Bake at 350*F for 25 to 30 minutes or until a wooden pick inserted in the center comes out clean (don't remove from the pans yet).
For the glaze, combine the sugar, butter, corn syrup, buttermilk and baking soda in a saucepan and mix well. Bring to a boil over medium high heat and boil for 4 minutes, stirring frequently. Remove from heat and stir in vanilla.
Drizzle the glaze over the hot cake layers. Cool the layers in the pans on a wire rack for 15 minutes. Remove from the pans and finish cooling on the rack competely.
For the frosting beat the butter and cream cheese at medium speed in a mixing bowl until light.
Add the icing sugar and vanilla and beat until smooth. Spread between the layers and over the top and side of the cake.