awalde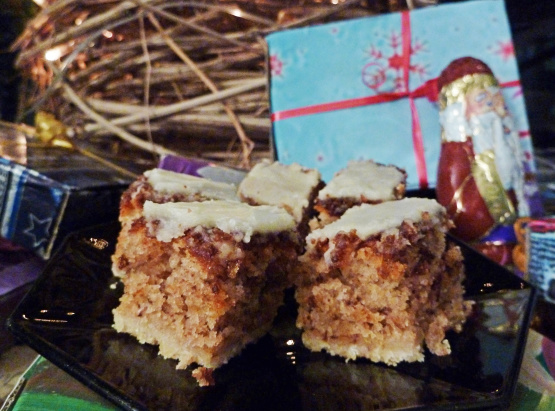 These are from Sally Grosserode. Very old recipe. They have coconut and nuts too. I have made this recipe. It is wicked good. The batter is loose when you put it over the pressed mixture. It is very rich, almost candy bar like. Try this recipe; you will like it.

If I could give it more than five stars I would. I keep telling myself "but the cinnamon is supposed to help burn fat ...hehehee" yummy, rich and I think I need to go make some more!!! :)
Cream butter, sugar and brown sugar.
Add flour. Divide in 1/2.
To the first half add nuts and coconut.
Press into the bottom of a 9x13 pan; set aside.
Combine egg, salt, cinnamon, baking powder, buttermilk, and vanilla.
Spread over first layer.
Bake in 350 degree Fahrenheit oven for 45 minutes.
While still warm frost with thin icing.