Prep 15 mins
Cook 15 mins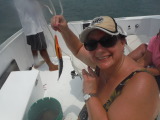 Great with chocolate cake!! A family favorite!
Directions
Measure first three ingredients into saucepan and mix thoroughly, then stir in milk until smooth.
Place over medium heat and cook while stirring constantly until VERY THICK. If not smooth when partially cooked, beat with rotary beater until smooth and then continue cooking.
Remove from heat and turn into a 2 or 3 quart mixing bowl. For quick cooling-place bowl in cold water. Mixture should be cool enough to NOT melt butter.
Remove a stick of butter at a time from refrigerator, cut butter into 1/2" pieces. Beat butter into cooled mixture about 2 Tbs at a time, beating until smooth after each addition of butter.
When all butter is incorporated beat in flavoring. (Other flavors of extract can be used with success).
Entire beating takes 8-10 minutes. Frosting will spread more evenly if chilled 5-10 minutes after mixing. Thickly covers 3-9" layers. Store cake in refrigerator until serving.
Reviews
Most Helpful
This turned out clumpy,clear, and liquidy. I had to keep adding and adding then straining the confection sugar to make it more hard. I finally decided to add cocoa powder, and that fixed everything. It tastes a lot better now!
I thought this recipe was too sweet and that the flour made it too heavy. Also, there was not enough frosting to frost a 9x13 cake. I tried making it again, and doubled the butter, salt, & milk. I used a little less than 1/2 cup flour, 1/2 t. of vanilla, and only 3/4 cup of sugar. It turned out extremely fluffy and melted in our mouths. My husband loved it.