Burstin' Berries Double Chocolate Muffins
Heydarl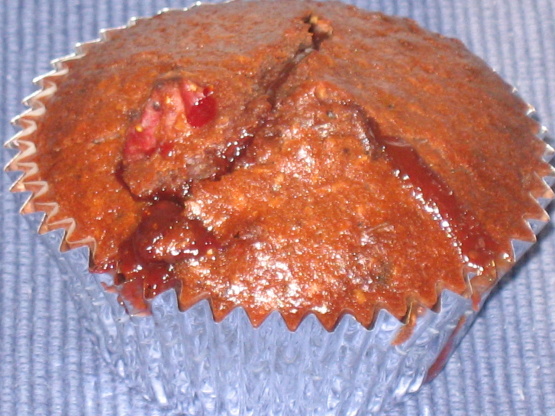 Chocolate and berries go so well together. I you love that combo you will love these muffins. The double chocolate base is complemented with morsels of sweet strawberries. But it is the surprise in the centre is what really makes these chocolate muffins burstin' (with) berries. Created for RSC #11.

These tasted wonderful. I made them with 1 cup white spelt flour & 2/3 cup wholemeal spelt flour. I used strawberry jam instead of raspberry & fresh strawberries. I should have cooked them just a few minutes longer, but they were nice & gooey in the middle. Very easy to make & enjoyed by all. Thanks for sharing this keeper. Made for ZWT4
NOTE: If using frozen strawberries, chop and mix into muffins when still completely frozen.
In a medium bowl combine flour, sugar, cocoa, baking powder, and salt. Set aside.
In a large bowl whisk egg. Add honey, melted margarine, and vanilla. Whisk till well combined. Add skim milk, whisk till combined.
Add flour mixture into wet mixture, stir until almost combined. Add in strawberries and chocolate chips, stir until just combined.
Spray 12 muffin tins with cooking spray. Spoon about 1 tbsp of batter into the bottom of each cup just so the batter fills the bottom of each cup. Spoon about 1 heaping tsp of raspberry preserves into the centre of the muffin tin on top of the base of batter. Gently spoon remaining batter on top of each muffin ensuring the preserves are completely covered.
Bake at 400F for 15-20 minutes. Muffins are done when toothpick inserted in muffin comes out clean.