karen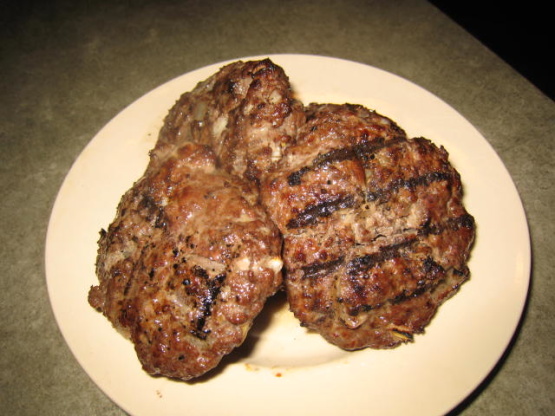 Adult food! A twist on the grilled burger; very elegant and tasty for guests. Serve with mushrooms sauteed and cooked in a little of the wine. Enjoy!

These are SPECTACULAR burgers. I used a Shiraz (two buck Chuck)for my wine. I used dried onions (I can only imagine how much better it would have been with fresh) as my son would have a FIT to see onion pieces in his burger. I also used 1/2 t. garlic powder as we are fanatics. I had a "smoky" seasoned salt from Penzeys that I used as well. They were juicy, fantastically seasoned, and with some sauteed mushrooms on top I thought this to be one of the best burgers I have had in a long, long time.
Mix all the ingredients together.
Shape mixture into 4-6 patties, each about 1" thick.
Grill 4" from heat, turning once, to the desired doneness, about 8-10 minutes.
(Do not mash burgers; all meat juice will run out and burgers will be dry.)
Served on toasted buns with Provolone cheese slices and sauteed mushrooms.