Buffalo Meatloaf With Brown Sugar and Ketchup Glaze
Derf2440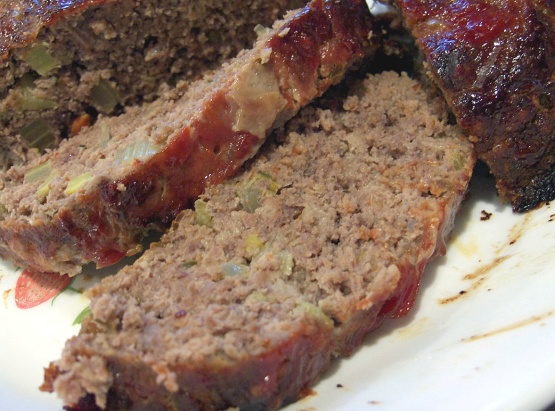 This is a lean meatloaf recipe for those of us who can't eat onions. Adapted from a meatloaf recipe found in Cook' Illustrated Cookbook. This is a family favorite!

mmm outstanding meatloaf! DH thought it was the best ever. Really liked the glaze, very tasty. Instead of hot pepper sauce I used a teaspoon of chipotle sauce, it gave it a nice bite. For the sausage I used some from the local butcher, turkey/sundried tomato sausage, worked out very well. Love the idea of using yogurt in meatloaf. Didn't use the bacon, didn't have any in right now. All and all this was a wonderful meatloaf, one I will make again and again. Thanks for posting.
For the Glaze: Mix all ingredients in small saucepan and set aside.
For the meat loaf: Heat oven to 350°. Heat oil in medium skillet; add celery and garlic. Saute until softened, about 5 minutes. Set aside while preparing main ingredients.
Mix eggs with thyme, salt, pepper, mustard, worcestershire sauce, pepper sauce, and milk or yogurt. Add egg mixture to meat in large bowl along with crackers, parsley and cooked celery and garlic. Mix with fork until evenly blended and meat mixture does not stick to bowl. (If mixture sticks, add more yogurt or milk, a couple of tablespoons at a time, until mixture no longer sticks.).
Turn meat mixture onto waxed paper. With wet hands, shape into loaf and place in meatloaf pan or shallow pan. Brush with half the glaze and arrange bacon slices on top.
Bake loaf until bacon is crisp and internal temperature of loaf registers 160 degrees, about 1 hour 15 minutes. Take out of oven and let rest under foil for 20 minutes. Simmer remaining glaze over medium heat until thickened slightly. Slice meat loaf and serve with extra glaze passed separately.