Bergy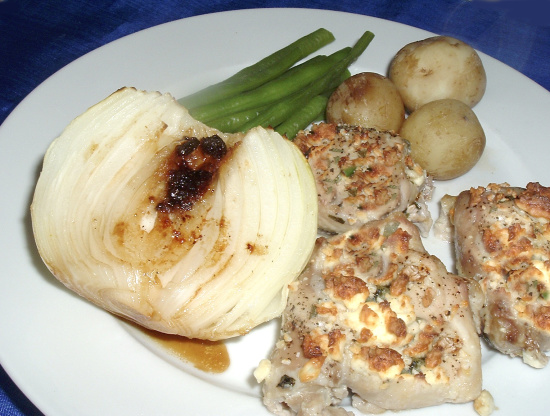 Another recipe to use with the Jumbo Vidalia Onions. Don't forget large means Jumbo for these Vidalia Onions recipes.

My 11 yr. old loves onions, so I decided to give this a try. He also is very picky about what he eats. Well, he loved this! It turned out so nice and full of flavor, and of course I had to have a bit or two myself. He has already requested this for Superbowl Sunday! Next time I will have to try it in the microwave, but he wanted the first time done in the oven. Thanks for posting.
Peel Vidalia and scoop out middle leaving a hole the size of a quarter through entire Vidalia. (I would not brake through he bottom of the onion so flavor stays in the onion).
Place Vidalia in baking dish.
Inset bouillon cube in bottom of hole and fill the rest with butter.
Cook at 350°F for 30-45 minutes or until tender.