Brunch-Style Stuffed Acorn Squash (Paleo)
Crisci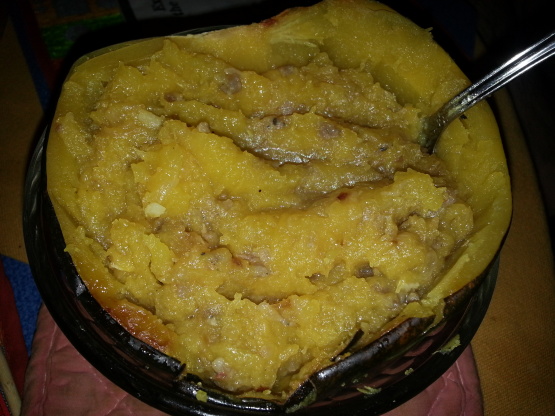 Adapted from a recipe a friend posted on Facebook... a nice breakfast (or lunch, or dinner), and it's even paleo friendly!

Top Review by Crisci
Delicious! I made the recipe exactly as written. Used hot pork sausage which gave it the perfect zing to bring out the sweetness of the squash. One note... my acorn squash was BIG so it took twice as long to cook as the recipe called for. That shouldn't be a problem most of the time.
Preheat oven to 400 degrees F.
Cut the acorn squash in half, lengthwise.
Place the acorn face down over a cookie sheet or baking dish and bake for about 20-25 minutes or until the squash is tender. Remove from oven and cool enough to handle.
Meanwhile, in a medium skillet, heat the butter or oil and sauté the onions, garlic, sage and sausage until the sausage in fully cooked.
Scoop most of the meat from the squash out being careful not to break the skin or leave the acorn "shell" too thin.
In a large bowl mix the squash, and sausage.
Scoop sausage mixture back into the acorn.
With the back of a spoon, push down in the middle of the squash to create room for the eggs.
Crack the eggs open and pour one egg in the center of each squash.
Bake for an additional 10-20 minutes or until egg reaches your desired doneness.